Aerospace systems effectiveness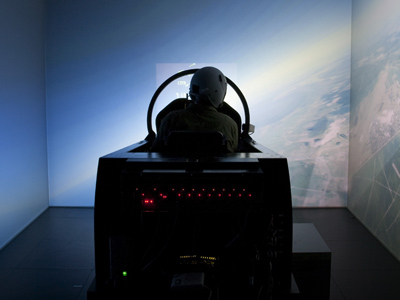 The Aerospace Systems Effectiveness branch of Aerospace Division supports Defence outcomes in capability, efficiency and safety by providing advice and solutions where humans and air platforms or systems interact.
Human factors
Our Human Factors group conducts research into human-system effectiveness issues within the aerospace domain. This includes research on ADF aircrew, individual and collective training in live, virtual, and constructive (LVC) environments, human-machine interfaces, and human interaction with autonomous systems.
Our infrastructure in this area includes:
Applied vision laboratory
Applied cognition laboratory
Team training laboratory
Office based computational facilities.
Air operations simulation
Our Air Operations Simulation group conducts research in the simulation domain and provides a human-in-the-loop simulation and modelling capability to support ADF operations where aircrew are a critical component of the system or sub-system of interest. This work extends to the support of the interoperability of LVC systems for training and experimentation.
Helicopter systems effectiveness
Our Helicopter Systems Effectiveness group undertakes research and develops fluid dynamics and flight models of military helicopters to undertake operational effectiveness studies. Vision systems research is undertaken with a particular focus on enhancing ADF capability in degraded visual environments, including night operations.
Our infrastructure in this area includes:
Night vision laboratory
Office-based computational facilities.