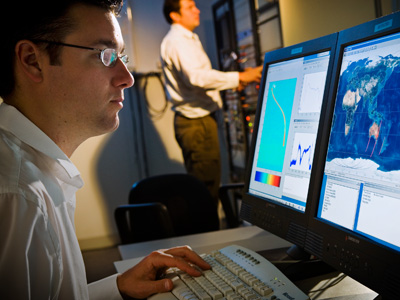 The Information Integration Branch of National Security and Intelligence, Surveillance and Reconnaissance (ISR) Division conducts research, development and analysis related to ISR systems and system integration, applied to meeting Defence and national security capability needs.
The branch applies ISR systems analysis techniques, develops software constructs for an Integrated ISR Enterprise and undertakes research and development of target tracking and multi-sensor fusion algorithms.
A major focus for the branch is the development and deployment of an exemplar ISR integration framework that addresses the future Defence vision for an Integrated ISR Enterprise.
Strategic systems analysis
Our Strategic Systems Analysis group develops and applies techniques and tools for the assessment of strategic ISR systems and capabilities, such as space-based ISR systems and space situation awareness.
We provide science and technology (S&T) advice on ISR capability effectiveness, the suitability of ISR architectures and system constructs for Integrated ISR and the impact of technology on ISR concepts of operation.
The group interacts with a wide range of ISR technology groups and Defence stakeholders to understand and address the relevant problem space. The Surveillance Analysis Centre forms part of this group.
Information architectures
Our Information Architectures group investigates and develops software constructs suitable for supporting the future Defence and National Security Integrated ISR Enterprise in intelligence, joint, coalition and inter-agency environments.
The group supports the development of an exemplar Integrated ISR Architecture as a major part of its activity.
Through this group we also provide advice on the technical aspects of ISR integration frameworks and innovation models to support their ongoing evolution.
The ISR Analysis and Integration Laboratory (ISRAIL) forms part of this group.
Data and information fusion
Our Data and Information Fusion group develops and assesses novel algorithms that can deliver improved tracking and/or sensor fusion performance to the Warfighter or Intelligence user.
Problems involving multiple intelligence and information sources and significantly larger datasets are an increasing focus for the group.
Through the Data and Information Fusion group, we provide advice on tracking and fusion effectiveness to a range of Defence clients, including the Capability Development Group (CDG) and the Capability Acquisition and Sustainment Group (CASG).