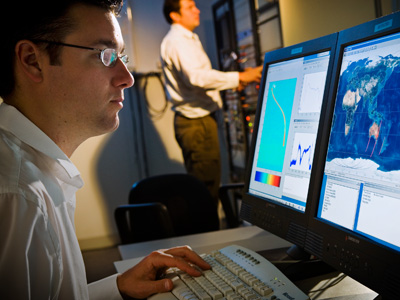 The Information Integration (II) branch undertakes research, development and demonstration of enhanced ISR information integration capabilities, addressing key areas of ISR systems analysis, multi-source tracking and fusion, information fusion, enterprise ISR information architectures, situation awareness, and small satellite experimentation and operations.These key areas capture key related technologies that are essential to enhancing the design, integration and application of ISR systems in the Defence enterprise in the surface, air and space domains. The branch works with other DST branches, academia, industry and international partners to deliver Defence ISR outcomes.
Information Architectures (IA)
The Information Architectures (IA) group undertakes leading edge research, development and experimentation of architectural and integration constructs to enhance Defence Information Superiority through the shaping and influencing of the next generation Defence geospatial-enabled ISR enterprise. The S&T program addresses Defence's need for relevant, timely, complete and accurate information underpinned through the intelligent use of integrated, agile, resilient and robust architectural concepts.
Data and Information Fusion (DIF)
The Data and Information Fusion (DIF) group is the centre of excellence in DST for developing and assessing tracking and fusion algorithms to enhance the capability of the warfighter and intelligence user. In the complicated environments that are the modern and future battlespaces, the fusion of data and information from multiple sources is critical in providing accurate situational awareness. The S&T program addresses Defence's need for the intelligent integration of data and information across systems and networks. The work of the group supports many major Defence acquisition projects and capabilities. Our vision is one picture for decision superiority.
ISR Systems Analysis (ISA)
The ISR Systems Analysis (ISA) group is the centre of excellence in research and development of ISR design, concepts and performance assessments spanning the ISR enterprise from collection, through information exploitation and fusion, to reasoning and prediction. Applied vertically within single capabilities and horizontally across the enterprise, the focus is always to understand the impact on the warfighter. Drawing on a deep knowledge of ISR capabilities, and applying a range of analysis tools and techniques, the group explores the changing nature of ISR for Defence and anticipates future ISR needs.
Space Systems (SS)
The Space Systems (SS) group is the centre of excellence in developing and undertaking demonstration multi-satellite space missions for Defence, incorporating concept exploration and design, technology development, mission control and satellite constellation operation. The group has an important role in delivering the ten year Defence S&T Strategy for Space, harnessing skill sets from across DST, Defence, International, National and Industry communities. By undertaking research and development in a range of technologies, as well as encouraging and leveraging advances in multi-satellite control, automation, cyber security and advanced materials, the group will deliver niche high-impact missions.