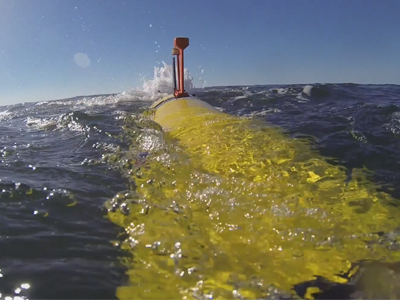 The Maritime Autonomy branch of Maritime Division encapsulates 'vehicle-level autonomy' (allowing systems to operate independently in unknown environments) and 'payload autonomy' (developing intelligent sensor payloads to direct and control specialised vehicle missions).
The branch is focused on applications with high operational relevance and aims to allow the warfighter to operate in very high risk environments without being physically present.
The major science and technology capability (MSTC) provides vital support for SEA 1179, SEA 1778, JP 1770 and AIR 7000.
Unmanned systems and autonomous systems
The primary research objective in our Unmanned Maritime Systems group is payload autonomy.
Payload autonomy utilises custom software to process incoming sensor data during a mission to dynamically influence its execution.
The research involves development of scientific knowledge to enable a shift from rule-based target recognition algorithms to a framework for fully probabilistic autonomy to achieve more efficient information fusion, higher detection rates and fewer false alarms and studies of the performance characteristics of powered and buoyancy-driven underwater vehicles.
The methods used in this group include:
physics-based modelling and simulation
on-board sensor signal processing for in-stride automatic target recognition
behaviour-based control based on the Mission Oriented Operating Suite underpinned by extensive sea trials using commercial off the shelf underwater vehicles as well as autonomous (systems) surface vehicles.
Magnetics and payload sensors
Our Magnetics and Payload Sensors group develops advanced technologies, analytical capability and expertise in acoustic and non-acoustic sensing to support maritime military operations in littoral and deep waters.
This work includes:
airborne magnetic sensing via magnetic anomaly detection (MAD) of a submarine threat to provide target localisation (in the near term this capability will advise the AIR7000 project)
airborne and satellite sensing of the shallow water environment to provide a unique capability to amphibious operations and landings
enhanced acoustic propagation models to provide improved high frequency sonar performance for synthetic aperture sonar, mine warfare and tomographic imaging
maritime security systems including ship harbour protection and boat stopping technologies
underwater ship and submarine signature measurement systems for threat reduction and modelling
development of future minesweeping and mine jamming capabilities.
This group also supports fundamental research into advanced photonic devices as future high-sensitivity magnetic sensors.