2013 Innovation Lecture: Think Big and Make it Happen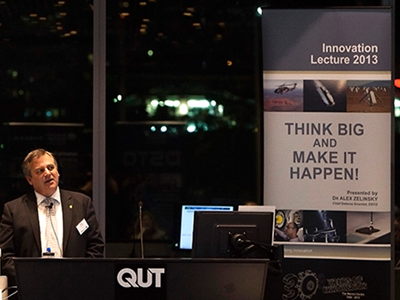 In 2013, Dr Alex Zelinsky delivered the annual Innovation Lecture for the Warren Centre for Advanced Engineering.
In the lecture—Think Big and Make It Happen—Dr Zelinsky presented case studies on innovation from his career as an entrepreneur, a CSIRO senior executive and as head of DSTO.
The Lecture Series started in Sydney in July 2013, continued in Adelaide, Brisbane, Canberra, Hobart, Melbourne, Perth throughout the second half of 2013, and finished in Wollongong in December 2013.
A recording of his lecture at University of Wollongong is now available on DSTO's YouTube channel.
You can also download:
About the Innovation Lecture
The Warren Centre Innovation Lecture series is a premier event in Australia's science and engineering community. More details about the Lecture series can be found of Warren Centre website. Read more about the 2013 Innovation Lecture.