Speech to Mathematics for Planet Earth Conference 2013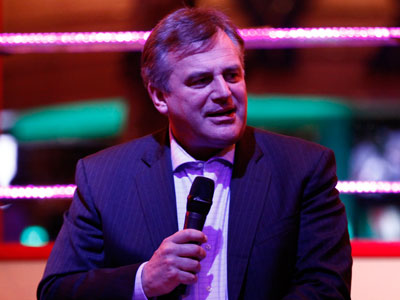 DSTO's Chief Defence Scientist, Dr Alex Zelinsky, addressed academics, researchers and industry representatives at the Mathematics of Planet Earth conference in Melbourne on 11 July 2013.
Transcript
Professor Geoff Prince (Director Australian Mathematical Sciences institute) and distinguished guests from overseas and Australia, ladies and gentlemen.
Good evening. Let me begin by acknowledging the Kulin Nation, the traditional owners of the land on which we meet today, and pay my respects to their elders past and present.
I would like to thank the Australian Mathematical Sciences INSTITUTE (AMSI) for inviting me to speak to you this evening and share some of my thoughts on how mathematics makes a difference in the world.
As the Chief Defence Scientist I see every day how science, technology, engineering and mathematics (STEM) impacts on the research we do for Defence. The work of our mathematicians can have far-reaching effects not only for Defence and national security but for the whole economy. Mathematics is the cornerstone of advances in innovation and productivity in our technology age.
I would like to tell you about two Australian mathematicians from the 1940s and 50s, who became famous for their theories and experiments which are still being followed today. They were George Batchelor and Albert Alan Townsend.
Professor Batchelor was a pioneer in the field of fluid mechanics – the science of how matter flows. He had an enormous influence on engineering science and applied mathematics in the Commonwealth and Europe. He established the Department of Applied Mathematics and Theoretical Physics at the University of Cambridge and started the Journal of Fluid Mechanics which he edited for 44 years. His text book An Introduction to Fluid Dynamics has been translated into many languages. Professor Batchelor also founded the Euromech Committee to foster the study of mechanics in Europe. He was awarded six honorary doctorates and the royal medal of the Royal Society.
His Australian colleague Alan Townsend was also a reader in Experimental Fluid Mechanics at the University of Cambridge and was awarded Fellowship of the Royal Society. Between Batchelor's advances in theory and Townsend's expertise in experiments, the pair became leading international figures in the study of fluid mechanics including turbulence which was central to many practical applications in aeronautics and meteorology.
In case you are wondering why I have singled out these two Australian mathematicians, it is because they both worked for the Defence Science and Technology Organisation (DSTO) in Melbourne at the Fishermans Bend laboratory when it was known as the Aeronautical Research Laboratory. It is here at Fishermans Bend that they first became interested in fluid mechanics – a domain that is mathematically complex. The work of Batchelor and Townsend continues to influence the development of fluid dynamics, and now the modern discipline of computational fluid dynamics.
Today at DSTO we still undertake studies in fluid dynamics to evaluate the technical risks associated with the hydrodynamic performance of future Navy ships and submarines. But we now use super computers for large computational fluid dynamics simulations in order to get results in hours rather than months.
More and more areas of science and technology now rely on complex computational simulations and the analysis of expanding amounts of data. This means that mathematical sciences are continuing to play an increasingly important role. Mathematics provides the fundamental language for computational simulation and data analysis.
In reality, mathematics is part and parcel of everyday life in our complex modern world. Modern day computing relies on mathematics, and so do a host of applications in medicine, economics, business, finance, weather forecasting, digital communications, and of course defence.
Now that I've mentioned Defence, let me talk more specifically about the organisation I lead, the Defence Science and Technology Organisation or DSTO.
DSTO's purpose is to be a national leader in safeguarding Australia by delivering valued scientific advice and innovative technology solutions for Defence and national security.
With a workforce of 2300 staff we are predominantly an applied research organisation, with a small but important component addressing basic research and looking at the longer time horizons.
We are well placed to offer a view of both the current and future demands for mathematical sciences, particularly from a Defence perspective.
The breadth of applications of mathematics over the past 100 years for Defence science has been profound.
Mathematical skills are essential for DSTO to be able to deliver its outcomes to Defence. There would hardly be an area of research where mathematical sciences would not apply to some extent.
Currently, the DSTO science and technology workforce consists of ABOUT 340 staff employed in the mathematical sciences.
All work areas in DSTO rely on underpinning mathematics and statistics to a greater or lesser extent.
There are also some specialist areas where DSTO has contributed to the development of high‐end mathematical science itself. These include autonomous systems to protect Defence personnel operating in dangerous environments, signal processing for wide area surveillance, such as the Jindalee-Over-the-Horizon Network, and cryptography to keep our national secrets safe. In 1999 DSTO mathematician Dr Ian Doherty was awarded the Defence Minister's Award for Achievement in Defence Science for establishing a strong Defence capability in crypto-mathematics, the theory of codes and ciphers. He started a mathematical research group which worked with the Defence Signals Directorate and was highly successful in solving problems critical to Defence. This collaborative arrangement is still working today.
Cutting‐edge mathematics is anticipated to underpin many of the emerging technologies for effective cyber capabilities, control of unmanned systems, satellite guided weapon systems, smart sensors, bioinformatics, and advanced control and communications in military operations. These capabilities require competencies in pure mathematics, applied mathematics, numerical and computational mathematics, and computation theory.
Overall, we expect to see an increase in the importance of mathematical sciences to the work of DSTO into the future. In coming years mathematical skills will be required in quantum information science, machine learning, advanced signal processing and the ability to mine large datasets.
We see mathematical sciences as a foundational capability for the organisation, essential both to deliver our current program and also to provide the generic skills and capabilities to take us into a changing future.
Consequently DSTO has a strong interest in supporting the study and development of mathematical sciences in schools and universities.
We favour an approach which recognises that STEM starts in schools and develops students in advanced mathematics through secondary school years leading to tertiary qualifications that include modern scientific programming languages and experimental mathematics. This is why we welcome the initiative by the Australian Academy of Science to develop a Decadal Plan for the Mathematical Sciences from 2015 to 2025.
Our primary expectation is for the mathematical sciences pipeline to deliver sound mathematical skills to students in all the STEM disciplines and beyond. As an employer DSTO needs a sustained pool of top quality Australian mathematicians.
Our expectation from the education system is for the effective delivery of advanced mathematics education to students in all domains, not just mathematics.
Mathematics graduates with a broad education have an ability to apply their mathematical skills to real world problems and the domain they work in, such as signal processing, cryptology or social network analysis. DSTO has multi-disciplinary teams working together to find solutions to complex defence challenges. So we value staff who take a team-based approach to problem solving.
DSTO's advice to Defence is always supported by quantitative data analysis. As such, our research scientists are expected to have good quantitative analysis skills regardless of their primary discipline, and they may need to expand these skills in the course of research on new problems.
We see data analysis, mathematical modelling and quantitative analysis activities as integral components of our overall Research and Development program.
We are finding the supply of highly talented mathematicians is becoming increasingly problematic.
According to the Health of Australian Science report, enrolments in many Australian STEM university courses are stagnating. Although science enrolments have improved in recent years, they have not reached the same levels achieved during the early 1990s. Enrolments in science courses had increased 30% between 2002 and 2010 but this is below the average growth rate of 33% across all study areas. What is worrying is that undergraduate students who take up mathematics, physics and chemistry tend not to continue with these subjects after the first year. Only 13% of teaching beyond the first year is in mathematics. The 2003 OECD Education report found that only 0.4 per cent of Australian university students graduated with qualifications in mathematics or statistics whereas the OECD average was 1 per cent.
At the high school level, the number of Year 12 students enrolled in mathematics declined from 76.6% to 72% between 2002 and 2010. There was also a trend for students to down-shift from intermediate and advanced levels of mathematics to the elementary level.
Given this state of affairs, we, as a scientific community, must do more to encourage students to take up the study of science because there is a great deal that rides on our enabling sciences like mathematics - our productivity, our innovation, our economic growth and our competitive edge in the global market.
At DSTO we are taking seriously our commitment to advance and inspire the study of STEM subjects. We are investing in talent and career development, including an outreach program to promote STEM in schools and the community.
Another initiative on the cards is a DSTO Maths Forum at Schools program which aims to demystify maths so that students can relate to it. This will be in addition to the activities that DSTO scientists undertake with staff from the Defence Signals Directorate (now called the Australian Signals Directorate). For 12 years staffs from both our organisations have been closely involved in the Canberra Mathematics Enrichment Program for high school students, running at the ANU for almost 50 years. This program fosters enjoyment in mathematics, develops problem solving skills and prepares students for the International Tournament of the Towns competition.
Last year three Canberra schools participated in the inaugural Mathematics Appreciation Day. This event was spearheaded by Defence's crypto-mathematicians in the Australian Signals Directorate and DSTO. It proved so successful that two more Maths Appreciation Days were held this year and three more are scheduled later this month.
DSTO staff also volunteer for the Scientists in Schools Program run by CSIRO and many more staff are expected to join this program and partner with schools to promote science and mathematics.
Over the next five years DSTO also plans to increase the proportion of staff with PhDs, and professional and technical qualifications including experience in industry and academia. This will include staff with qualifications in the mathematical sciences.
DSTO looks forward to working with the Australian Mathematical Sciences Institute to raise the awareness of the importance of mathematics in Australia.
Mathematics has delivered incalculable benefits to Defence. Let me thank all our mathematicians who make a vital contribution to Australia's defence and national security. They have used mathematics to measure, model, analyse, predict and control complex systems and scenarios in an increasingly digital and networked military environment. Thanks to our mathematicians, we have made incredible advances in pattern recognition, image processing, signal processing, cryptography and electronic warfare among many other capabilities.
At the same time one cannot underestimate the importance of outreach activities in promoting better public understanding of the value of mathematics and its allied disciplines. It is through these activities that we can make STEM careers attractive to students and ensure that the education system is delivering talented mathematicians, scientists and engineers to meet the growing demands of Australia's future economy.
DSTO looks forward to working with all of you here tonight to advance the field and broader agenda for mathematical sciences; as well as, the opportunity to formally join the Australian Mathematics Sciences Institute.
Thank you.