Event |
Autonomous Warrior 2018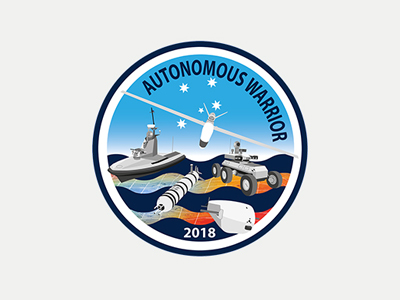 Autonomous Warrior 18 is a DST initiative to demonstrate the potential of uninhabited systems to transform Defence capability.
Supported by the Royal Australian Navy, it will be held from 5 to 23 November 2018 at HMAS Creswell, Jervis Bay and in surrounding Defence-controlled areas.
Through Autonomous Warrior 18 (AW18), DST intends to build upon the success of the United Kingdom's 'Unmanned Warrior 2016', which involved industry participating in military missions, operational tasking efforts, innovative autonomous challenges and complex data integration.
AW18 seeks to examine the potential for autonomous systems to support Defence while operating in coastal environments. It will focus on the control and integration of uninhabited systems. It will not involve the demonstration of weapons capability.
Attendees at AW2018 will include senior Australian Defence Force officers, The Technical Cooperation Program principals, participating science and technology staff, senior overseas military officers and industry representatives.
Key events
Defence Industry Media Day | Monday, 12 November
Defence Industry VIP Day | Tuesday, 13 November
The Technical Cooperation Program VIP Day | Thursday, 22 November
What will happen at Autonomous Warrior?
Autonomous Warrior 2018 consists of three different activities:
An Industry Dynamic Exhibition, providing an opportunity for Australian industry to showcase its technology, ingenuity and capacity for integration with other systems. This will be held during the first week;
An Autonomy Strategic Challenge "Wizard of Aus" (WoA) event, the fifth and final scientific trial in the TTCP Autonomy Strategic Challenge series. This will be held during the third week; and
Navy and Army using in-service semi-autonomous and unmanned assets.
Twenty six Australian and international participants will provide live demonstrations of their technologies. These include:
13 air vehicles
8 ground vehicles
14 sea surface vehicles
3 underwater vehicles
Control, integration and demonstration
AW18 is about control of unmanned systems, the integration of control technologies and a demonstration of its application to ADF scenarios.
The integration of a unique combination of air, land, sea and underwater S&T technologies from the five TTCP nations is a key goal of AW18.
Uninhabited air, ground, surface and underwater platforms will be operating throughout the HMAS Creswell littoral environment, and defence scientists will be assessing the control and operation of multiple vehicles by a single operator using the advanced Allied Impact (AIM) command and control (C2) system. The C2 system combines technology developed by the five participating nations.
Defence personnel on land and at sea will take part in operational scenarios that will demonstrate and explore how the latest autonomous technologies can best be exploited to defeat three major Defence situations:
Countering the illegal smuggling of goods and people
Patrol support
Base protection.
The threat scenarios have been designed specifically to allow realistic Navy participation, in order to accurately examine the potential for autonomous systems to support Defence and other agencies in common coastal surveillance operations including illegal fishing, drug smuggling and counter terrorism.
Success will be measured by how well in-service systems from the five nations and those developed by different industry participants can be controlled by individuals and small teams to enhance Defence's capacity. In other words, showcasing the end-to-end command and control of multiple remote vehicles in a dynamic threat littoral environment.
Another key aim is to engage and spur industry development of autonomous systems that are fit for Defence purposes. Current military operational agility within and across the five nations is constrained by proprietary industry interfaces and systems. Combinations of new systems will be possible through an interoperability architecture to avoid Defence exposure to proprietary standards lock-in.
Where will Autonomous Warrior 2018 take place?
With a focus on Defence coastal operations, the AW18 action will be centred on HMAS Creswell and Defence-controlled waters within the adjacent Jervis Bay, three hours south of Sydney, New South Wales, Australia. AW18 has the opportunity to call on the services of a naval ships in the Jervis Bay area.
What outcomes are expected?
Autonomous Warrior 2018 builds on what was learned through the United Kingdom's Unmanned Warrior 2016 (UW16) event, specifically that systems integration is a key enabler for exploiting uninhabited systems in the maritime environment. (At UW16 increasing levels of system integration were achieved throughout the event, with 50% of the participants achieving some level of integration by the end.)
AW18 will see improvements in the cohesion and automation of operations with respect to autonomous systems. It is expected that all uninhabited platforms participating in the Wizard of Aus TTCP event will be integrated through digital command and control, aiming to achieve improved coordination. To achieve this there will be increased levels of autonomy from both C2 and platform perspectives.
By improving the autonomy and integration of C2 systems and uninhabited autonomous platforms, our Defence force will achieve:
Force Multiplication - small teams of human operators controlling a large unmanned fleet in a dynamic threat environment.
An interoperability architecture for autonomous systems and C2 - providing guidelines for industry innovation and avoid Defence exposure to proprietary lock-in.
Integration of autonomy technologies between the five nations for faster and more informed decisions that provide enhanced mutual reliance, thus saving on national development costs.
Agility by merging tactical and operational control for faster military decision cycles.