Event |
Emerging Disruptive Technology Assessment Symposium | Advanced Materials and Manufacturing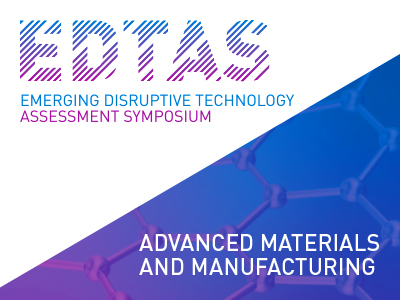 DST hosted an Emerging and Disruptive Technology Assessment Symposium (EDTAS) on Advanced Materials and Manufacturing on the 28-29 November at Cargo Hall in Melbourne.
The EDTAS series helps future-proof Australian Defence by utilising the Next Generation Technologies Fund to consider an expansive science and technology topic that heavily impacts Defence and National Security domains over a 20+ year timeframe.
The objective of this symposium was to shape future Defence research and preparations for emerging and disruptive trends in Advanced Materials and Manufacturing (AM&M).
This event considered AM&M technologies in 2040, application in 2040 scenarios, capability concepts, and; drivers, barriers and implications for AM&M adoption.
A key outcome from the symposium was a Big Picture Assessment Report developed through the workshop contributions of all attendees.
This symposium provided participants with opportunities to network and partner, gain an understanding of particular strategic and S&T challenges, and provide input to shape long-term Defence and National Security guidance.
EDTAS was streamed live via YouTube LIVE:
Day 1 (28 Nov) - https://www.youtube.com/watch?v=SNNxPZtDekQ
Day 2 (29 Nov) - https://www.youtube.com/watch?v=DPiwN5O40YQ
Presentations from both Day 1 and 2 can be found below:
For more information, refer to the EDTAS brochure