Event |
Emerging Disruptive Technologies Assessment Symposium – Information, Knowledge and Digital Disruption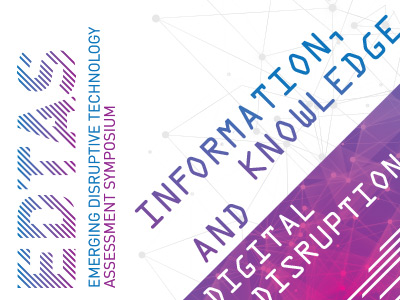 Defence Science and Technology Group in partnership with UTS and Noetic Group are hosting an Emerging and Disruptive Technology Assessment Symposium (EDTAS) on Information, Knowledge and Digital Disruption. EDTAS helps future-proof the Next Generation Technology Fund (NGTF) understand the impact, be it transformation or disruptive, of emerging and potentially disruptive technologies for Defence and National Security, in the 10 to 20 + year timeframe.
The objective of the symposium is to shape future Defence research and preparations for emerging and disruptive trends in Information, Knowledge and Digital Disruption in a smart city environment.
Key Information
Key Dates
EDTAS will be held on 10-11 April 2017
Location
EDTAS will be held at the Maritime Museum in Sydney, Australia.
Australian National Maritime Museum
2 Murray Street, Darling Harbour, Sydney New South Wales 2000
Phone: 02 9298 3777
Speakers
Download an overview of the EDTAS speakers here
Live Streaming
This event will be streamed live via Youtube LIVE on the DST channel. This will allow you to watch all our speakers throughout the day and after the event has finished. Commenting will also be possible via Youtube LIVE and Twitter. For those unable to attend we encourage you to comment live as your comments will be displayed during the event and may assist with generating further discussion.
DST Live Streaming links are as follows:
Day 1 Live Stream
Day 2 Live Stream
Twitter
The event will also be promoted across the DST Twitter account. To join the conversation or to ask a question please use the event hashtag #EDTAS.
Registration
Anita Briedenhann
navgn.oevrqraunaa@abrgvptebhc.pbz
Mitchell Edwards
Zvgpuryy.Rqjneqf@abrgvptebhc.pbz
Tel: +61 2 6234 7777
Refreshments and Lunch
Morning tea and lunch will be provided. Please note in your registration if you have any dietary requirements.
Travel
Travel for participation in the symposium is self-funded.
Contact Us
For more information please email rqgnf@qfgb.qrsrapr.tbi.nh