Event |
Emerging Disruptive Technologies Assessment Symposium (EDTAS) 2015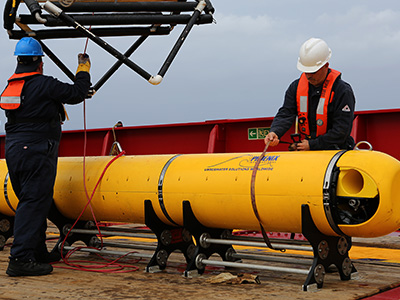 Defence, academic and commercial organisations are increasingly becoming interested in the development of autonomous systems especially as they are now able to perform a range complex and hazardous tasks more economically and with less risk when compared to humans.
This year, the Emerging Disruptive Technologies Assessment Symposium (EDTAS) will explore the theme of Trusted Autonomous Systems (TAS) and their related technologies to support humanitarian assistance and disaster relief (HADR) missions.
The objective of the symposium is to understand and shape the long term vision for TAS to influence national dialogue and guide longer term investments by Defence. The aim of the symposium is to consider the technical and societal trends, barriers, drivers and implications of TAS from platform level developments through to the complex challenges in reasoning and artificial intelligence.
Live streaming
Some sessions of EDTAS 2015 will be streamed live via YouTube at the following links:
Please note: the streaming links will activate 30 minutes prior to the times listed above. Prior to this, the links will be inaccessible.
Speaker presentations
As they become available, the presentations given by speakers will be uploaded to the EDTAS 2015 presentations page.
You can also view speaker biographies for day one day two and day three
Program
Check out the summary of each day below.
Day one (15 July 2015)
Day one comprises opening addresses, an International Key Note address, and an Innovation Forum (including an Innovation Keynote and Student Innovation Prize Session). Day One finishes with a session understanding the context of HADR and the potential role of TAS.
Day two (16 July 2015)
Day two comprises four sessions, broadly based on four themes:
vehicle developments
bio-inspired platforms and processing
data processing and fusion
machine reasoning and intelligence.
The overriding aim of the technology element of the symposium is to consider the trends, barriers, drivers and implications of TAS, from platform level developments through to the complex challenges in reasoning and artificial intelligence.
Day three (17 July 2015)
Day three focusses on the applicability of TAS for undersea surveillance using the search for MH370 as an example. There will be a scene setting presentation on Trust in Technology. Finally a panel session will consider trust in technology drawing on the presentations over the previous two days.
The panel will consist of specialists in technology, law, defence and ethics. The panel session will be recorded and it is proposed to use this as a webinar forum.
Session themes
Platforms & Systems
Vehicle Developments
Technologies for trusted autonomous systems are important because they have the potential to extend the reach and capability of traditional military forces while reducing operational footprint and threat to personnel. This theme explores the Defence and National Security applications of these technologies.
Sensors & Bio-Inspired Platforms & Technologies
Biomimetics and biomimicry are relatively new areas of research in automation. Examples include manufacturing techniques inspired by nature, robotic systems designed to mimic natural organisms, and research into swarming behaviour in flocks, herds, or hunting. This theme concerns itself with the study of the natural world. The lessons learnt therein are used to design novel autonomous capabilities.
Information & Knowledge
Data Processing & Fusion
The age of information heralds many challenges. Big data, data analytics, processing and fusion all deal with increasing volumes of complex, contextual and time sensitive information. This theme addresses the fundamentals in data processing and fusion, and research into related concepts.
Machine Reasoning & Intelligence
Machine intelligence is also embedded, imperceptibly and pervasively into almost all modern Information Technology applications on infrastructure we take for granted every day. This theme explores the technologies as they evolve and attempts to understand their wider implications as the machine reasoning and intelligent systems become mainstream.
Student Innovation Prize
Individual students or student research teams are asked to apply for the Student Innovation Prize associated with EDTAS 2015.
Co-sponsored by UNSW and DSTO, the prize will be awarded to the individual or team that can explain an innovation in the Trusted Autonomous Systems areas of Platforms and Systems, or Information and Knowledge.
See the Student Innovation Prize flyer for further information, including eligibility, submission and prize details.
EDTAS 2015 Event Partners