Event |
Emerging Disruptive Technologies Assessment Symposium | Information, Knowledge and Digital Disruption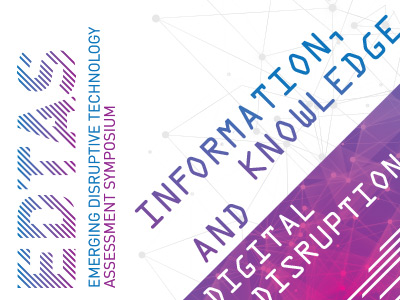 Defence Science and Technology Group in partnership with UTS and Noetic Group hosted an Emerging and Disruptive Technology Assessment Symposium (EDTAS) on Information, Knowledge and Digital Disruption. EDTAS helps future-proof the Next Generation Technology Fund (NGTF) understand the impact, be it transformation or disruptive, of emerging and potentially disruptive technologies for Defence and National Security, in the 10 to 20 + year timeframe.
The objective of the symposium was to shape future Defence research and preparations for emerging and disruptive trends in Information, Knowledge and Digital Disruption in a smart city environment.
Key Information
Key Dates
EDTAS was held on 10 - 11 April 2017
Location
EDTAS was held at the Maritime Museum in Sydney, Australia.
Australian National Maritime Museum
2 Murray Street, Darling Harbour, Sydney New South Wales 2000
Phone: 02 9298 3777
Speakers
Download an overview of the EDTAS speakers here
Live Streaming
This event was live streamed live via Youtube LIVE on the DST channel.
Day 1 Live Stream
Day 2 Live Stream
Contact Us
For more information please email rqgnf@qfgb.qrsrapr.tbi.nh