Event |
Human Engineering: Maximising Australian Defence Force Personnel Performance in Austere Environments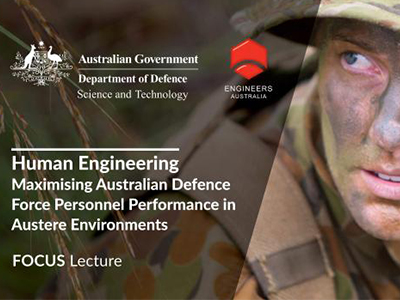 Engineers Australia and Defence Science and Technology (DST) Group invited members, professionals and the general public to attend a FOCUS Lecture on "Human Engineering: Maximising Australian Defence Force Personnel Performance in Austere Environments".
The human is not a highly engineered platform that responds uniformly across the fleet. When working in the heat it is a balance between managing the health risk and the military capability.
Working warfighters too hard can result in exhaustion and heat stroke, whereas stopping personnel prematurely can limit the utility of training and operational outcomes.
There is gross variability between humans which presents a serious challenge to managing the health risk while maintaining military capability.
Measurement of the environmental heat stress is essential to inform heat injury management procedures. Measuring the environmental heat stress in military operations can be challenging.
DST have partnered with industry to minimise these challenges and enable a greater ability to measure environmental heat stress.
These lectures were held in Canberra, Adelaide and Melbourne in June - July 2017.
KEY INFORMATION
Key Dates
Canberra: Thursday 15 June 2017, 6.00 - 7.30 pm
Adelaide: Wednesday 28 June 2017, 5.30 - 7.00 pm
Melbourne: Wednesday 5 July 2017, 5.30 - 7.00 pm
Location
Canberra: UNSW at the ADFA, LT07 Lecture Hall, Building 32, Northcott Dr, Campbell
Adelaide: Engineers Australia Adelaide, Auditorium Level 11, 108 King William St
Melbourne: Engineers Australia Victoria, Innovation Hub Level 31, 600 Bourke St
Speaker
Dr Mark Patterson - Group Leader Physical Ergonomics, Land Division, DST