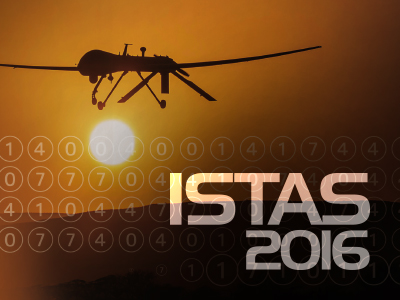 For decades we have been promised that Autonomous Systems are "just around the corner" – yet they are not here yet!
Is it because they aren't resilient enough, aren't smart enough, people don't trust them, or they don't possess the right kind of 'intelligence'?
This symposium considered 'surviving the unpredicted' as a kind of 'Turing test' for new approaches to Trusted Autonomous Systems and their research and development.
ISTAS 2016 aimed to bring world-leading scientists, pioneering academics, industry experts, researchers and students to an interactive forum to inspire and seed collaborative research. The symposium will feature world-class international and national keynote speakers, including Josh Bongard from the University of Vermont. Attendance is by invitation only under the support of the Defence Science and Technology Group and Industry Sponsors.
ISTAS 2016 Presentations
The Invitational Symposium on Trusted Autonomous Systems (ISTAS) 2016 brought together diverse speakers from government, military, academia and industry.
Presentations will be published here when they become available.
DAY ONE
Welcome and Introduction
Dr Alex Zelinsky – Welcome Address
Professor Josh Bongard -
Dr Jason Scholz – Surviving the Unpredicted
Autonomy Resilience
Dr Darren Reid – Unpredictable Outcomes in Unstructured Environments: The Future of Machine Reasoning
Associate Professor Adrian Pearce – Social Planning for Trusted Autonomy
Dr Toby Murray – Software Verification for Trustworthy Autonomous Systems
Dr Brandon Pincombe – Scenarios for Trusted Autonomous Systems
DAY TWO
Machine Cognition
Dr Ian Dall – Scene Setting
Professor Marcus Hutter – Unifying Foundations for Intelligent Agents
Professor Bob Williamson – The Future of Machine Learning
Professor Claude Sammut – Machine Learning for Control of Autonomous Vehicles
Dr Glennn Moy – Machine-Learning and Recommender Systems for Command and Control of Autonomous Vehicles
Trusted Human Synthetic Partnerships
Dr Glen Smith – Scene Setting
Dr David Aha – Goal Reasoning for Machine Cognition
Professor Janet Wiles – Human-robot interactions: Social Moments and Social Micro-Abilities
DAY THREE
Embodied Intelligence
Dr Simon Ng – Scene Setting
Dr David Johnson – Robust Situation Awareness: From Active Sensing to Coherent Active Perception
Dr Jan Barca – Monash Swarm Robotics Laboratory – A Prelude
Dr Kin Ping Hui & Dr Robert Hunjet – Survivable Autonomous Communications in Contested RF Urban Environments
Dr David Battle – Deep Ray – A Multi-Role Autonomous Underwater Vehicle for Persistent Surveillance