Event |
Model-Based Systems Engineering Symposium 2014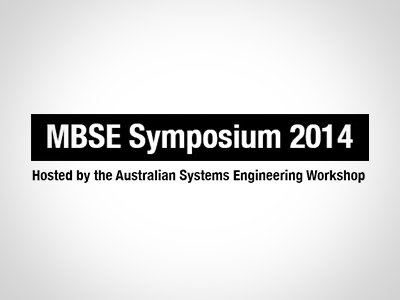 Symposium aim
The goal of the symposium was to share and promote excellence in model-based systems engineering practices. The 2014 theme for the symposium was the first three of the "seven different systems that must be acknowledged and understood by those who purport to do systems engineering"[1]. The so-called "Seven Samurai of Systems Engineering" described by James Martin.
[1] The Seven Samurai of Systems Engineering: Dealing with the Complexity of 7 Interrelated Systems, James N Martin, INCOSE IS 2004
Overview
James Martin identified that there are seven different "systems" that must be "acknowledged and understood" in the process of implementing a capability. Martin identified that the "Intervention System" is the system that will be designed to solve a problem that sits within a "Context System". However, as Martin continued, the Intervention System will not address the problem without being brought into existence by the "Realtization System". Therefore, the key to conceptual design is (1) describing the problem space, and (2) understanding the systems integration needs.
The symposium comprised of presentations, workshops and panel sessions that help advance the body of knowledge in model-based approaches to elicit, describe and analyse the problem space and systems integration needs.
Keynote Speakers
Olivier Flous, Vice President, Engineering for the Thales Group
Olivier Flous has been the Vice President, Engineering for the Thales Group since mid-2013. He is in charge of engineering processes, tools, skills development and competitiveness, overseeing more than 20,000 engineers. Between 1997 and 2005, Mr Flous has occupied various positions from Software Team Leader to System Engineering Manager for electronic warfare systems in combat aircrafts, as well as naval combat management systems. He then joined the transport industry where he has managed large engineering departments, before being appointed in 2008 Technical Director for both transport and security systems. Meanwhile he has been the design authority for very complex systems such as the Mexico City integrated security system. He holds a Master of Science in Engineering and postgraduate degrees in telecommunications and signal processing.
Symposium details
Where Canberra ACT, DSTO Fairbairn
When Mon 27 – Tue 28 October 2014
Who should attend
Managers, practitioners, researchers and clients involved in the application and development of model-based systems engineering techniques with a focus towards conceptual design, ranging from enterprise-level through to system-level concepts.
Symposium Organising Committee
For further information about the MBSE Symposium, please see the symposium website or contact:
Chair – Kevin Robinson Xriva.Ebovafba@qfgb.qrsrapr.tbi.nh
Technical Chair – Wayne Power Jnlar.Cbjre@qfgb.qrsrapr.tbi.nh
Conference Secretariat – Annabel Holliss (Arinex Pty Ltd) ZOFRFlzcbfvhz2014@nevark.pbz.nh
For general symposium enquiries, please email: ZOFRFlzcbfvhz2014@nevark.pbz.nh