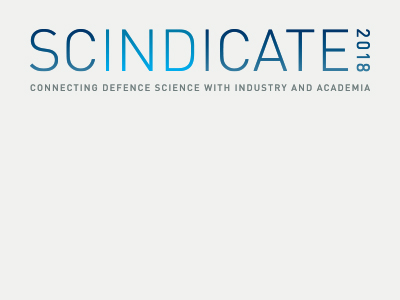 DST will hold its flagship partnership event on 29-30 August 2018 at its Fishermans Bend laboratory in Melbourne with a new brand name - SCINDICATE 2018.
The name SCINDICATE abbreviates Science (Sc) and Industry (Ind) and is pronounced syndicate, meaning a group of individuals or organisations combined to promote a common interest; in other words, partnership and collaboration.
The theme for SCINDICATE 2018 is Future Science and Innovation for Game Changing Capabilities.
Once again, industry, universities, research agencies and STEM organisations will be closely involved in the 2-day activities which will include technology demonstrations, workshops, briefings and laboratory tours, as well as opportunities for networking and forging new collaborations.
Register your interest
Registrations of interest can be placed via the Scindicate 2018 registration site.
Please note your expression of interest is not an automatic invitation to attend. You will receive a confirmation and ticket if your registration is successful.
More information
For more information about the event, email Fpvaqvpngr@qfg.qrsrapr.tbi.nh