Event |
SCINDICATE 2019: Partnering for Impact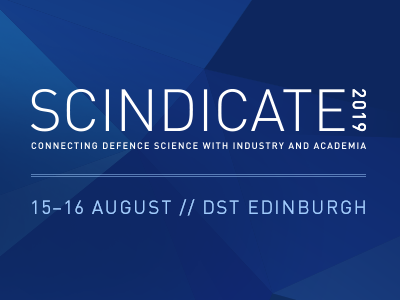 DST held its flagship partnership event on 15-16 August, 2019 at its Edinburgh site.
Venues across the DST Edinburgh site buzzed with palpable levels of enthusiasm and expectation from over 800 delegates on each of the two days. A range of high-profile defence industry speakers, including DST's own research Chiefs, presented strategies that will help drive the partnership agenda for innovation in defence science.
CDS Tanya Monro took the opportunity to highlight DST's bold new Science and Technology Strategy for Defence, and outlined multiple STaR Shot 'missions' aimed at delivering what she describes as 'leap-ahead' capabilities for Defence.
SCINDICATE 2019 provided a good balance to visiting delegates between showcasing DST's current activities and foreshadowing future directions. Keynote speakers including Professor Dawn Freshwater (UWA), Chris Jenkins (CEO, Thales), Cathy Foley (CSIRO) and GPCAPT Jerome Reid (RAAF) helped frame the discussion from an external point of view, while DST chiefs were on hand during the 'Solving Defence's Big Problems' sessions to help explain the freshly minted STaR Shots during panel Q&A sessions on both days.
Tours were conducted of DST's satellite communications facility, towed acoustic projector system and combat systems integration laboratories, while operations analysts held wargaming demonstrations during lunch on both days.
Eleven 60-second technology pitches provided a taste of partnership opportunities available with DST, in areas of defence science from advanced shipyards to security engineering, and from modular vehicle design to drone swarms. Initial feedback indicates that worthwhile contacts have already been made by pitchers with interested parties.
Each DST Division had a stand fitted with exemplar technology and information handouts, ready to kick-start partnerships for impact. Some stands had video displays, others had working demonstrations with which SCINDICATE delegates could interact. Throughout the event, volunteers from those divisions were on hand to help explain their division's technology and to take contact details for future discussions.