Call for proposals - Counter Improvised Threats Grand Challenge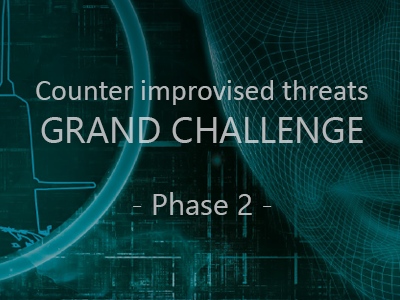 The Counter Improvised Threat Grand Challenge (CIT-GC) is an initiative under the Next Generation Technologies Fund (NGTF).
The mission of the CIT-GC is to demonstrate an integrated system that can detect and neutralise improvised threats on a complex joint battlespace with as low as reasonably practicable risk to Defence personnel and civilians.
The improvised threats facing Australia and our coalition partners have a number of features of note. They range in complexity and can now operate in all environments (under or on the surface of sea, beneath and on land and in the air). A CIT system needs to be agile and capable of fast evolution. These characteristics have led the CIT-GC adopting a phased and iterative approach to the development of a novel CIT system solution.
These phases are:
Phase 1: research and development of detection and defeat concepts, technologies and algorithms;
Phase 2: development of system architectures and hardware integration followed by prototype demonstration; and
Phase 3: Iterate the prototype as additional sensors and effectors become available, and increase the System Readiness Level (SRL) for deployable applications.
In phase 2, the mission of the CIT-GC is to demonstrate an integrated system that can detect and neutralise improvised threats in a complex joint battlespace with minimal risk to Defence personnel and civilians. The phasing of this Grand Challenge has provided for some project risk reduction but lessons from phase 1 implementation have highlighted the need to reduce the complexity of phase 2 in order to reduce delivery success risk. This will be done by defining the phase 2 scope and focused on the development of a Counter Unmanned Aerial System (CUAS) capability around the original scenarios from phase 1.
DST will establish a contract partnership with a preferred delivery model, to be proposed by the bidder. The model could be drawn from examples such as a single prime developer, a single prime developer utilising subcontractors or multiple partnership of developers.
For more information or assistance, please contact: JPFQ-CYPVG@qfg.qrsrapr.tbi.nh or visit the AusTender page.
The call for proposals closes at 1400 (Australian Eastern Standard Time) on 29 June 2020.
Tender responses are to be submitted electronically via the AusTender website using the 'Lodgement Page' link on this tender notification.
AusTender provides an online automatic notification facility for registered users who have registered particular areas of interest in product and service categories. Registered users will then be notified of new business opportunities and Planned Procurements via e-mail once business opportunities that match their specified profile are published. A registered user can edit their profile at any time to amend their notification profile or disable automatic email notification if it is no longer required.