Governance and management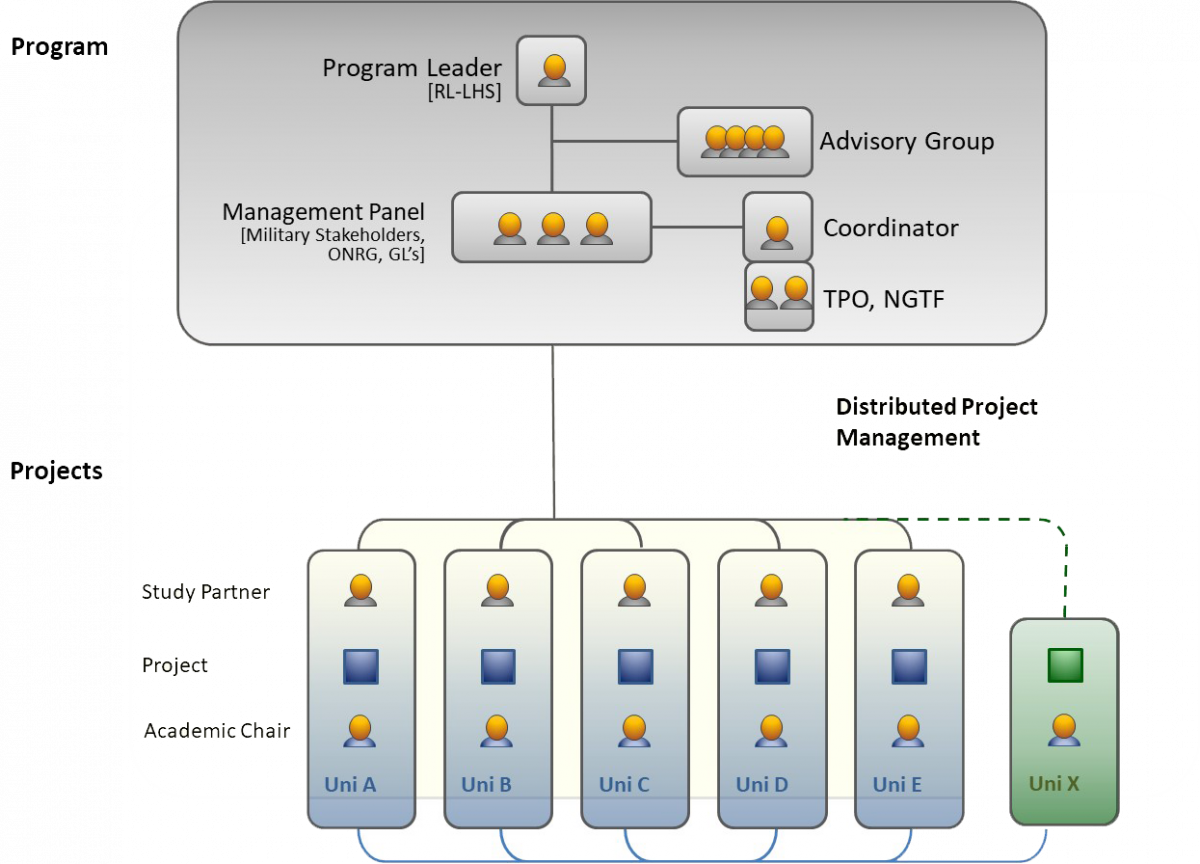 Program Leader
A Program Leader provided by DST manages and guides the HPRnet program.
Advisory Group
The Program Leader is supported by an Advisory Group consisting of senior representatives from DST, Army and relevant external organisations to provide advice and guidance.
Management Panel
A Management Panel, resourced by DST, supports the Program Leader in:
Overseeing annual reviews and planning to ensure scientific quality and guide the translation of research outputs into potential outcomes for Army.

Establishing and strengthening links between the network members, where appropriate, to promote scientific quality, productivity and innovation.

Developing and promoting collaboration between DST's human performance research program and the HPRnet partners.

Investing any future funds made available to expand the output and/or scope of HPRnet.

Setting HPRnet's 10-year plan drawing together Army's evolving priorities and maturing science and technological (S&T) opportunities.
HPRnet coordinator
A HPRnet Coordinator, provided by DST:
Tracks deliverables, time and budget.

Develops and executes contracts.

Organises and executes an annual HPRnet Symposium and quarterly newsletter.

Works with the universities to source non-Defence funding.

Acts as secretariat for the Advisory Group and the Management Panel, and is responsible for facilitating actions.

Facilitates links between network members.
Study Partners
For each of the study proposals selected for inclusion in the HPRnet, DST allocates scientists with suitable research capabilities to the role of Study Partner.
Academic Chair
Each HPRnet partner is required to nominate an Academic Chair to participate in the HPRnet Panel. The panel is encouraged to interact informally and as participants in regular formal meetings convened by the Engagement Manager.
Funding for chairs is taken from the research project budget or provided in-kind as part of the university's mutual investment. The functions of Academic Chairs are to:
Oversee each institution's research.

Manage the relationship with Defence.

Build partnerships to improve and extend the HPRnet future program.

Advise the Program Leader on emerging opportunities for future HP research within Defence.

Assist in the conduct of the annual HPRnet Symposium.

Contribute to a quarterly newsletter.