Escape from Space - mobile game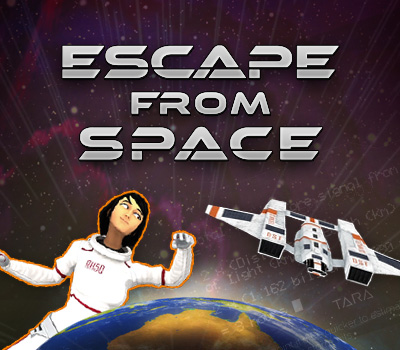 As part of an effort to engage with younger STEM prospects, DSTG has developed a mobile game through the Student Placement Program.
The year is 2050 and the Australian Star Ship SS Winjeel has launched into deep space to explore Saturn's moon Rhea, venturing further than anyone has been before. It's been a rocky ride and after 21 days SS Winjeel is in great trouble, stranded on a barren outcrop. On board is the lone commander of the space ship – Australia's first woman astronaut. Her mission now is to return safely to Earth.
Can you help her Escape from Space?
Gameplay overview
Escape from Space consists of a sequence of challenges presented in order of story development, with the degree of difficulty fluctuating but not increasing over the course of the game.
The simplest kind of challenge will involve the use of motor skills to manipulate something on the screen, such as driving a rover on a surface mission.
An advanced form of a challenge will be to devise simple to advanced formulas from a kit of supplied components. To ensure the game caters for a wide range of skill levels and abilities, indications of right/wrong answers and moves are presented to the user through visual indicators and sounds until the correct formulas are entered.
Download
The game is available for download on iOS and Android devices via the iTunes App Store and Google Play.