Additive manufacturing a potential game-changer for Defence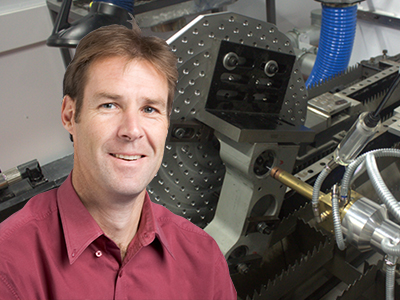 Researchers at the Defence Science and Technology (DST) Group are playing a key role in the use of additive manufacturing for the repair and strengthening of military aircraft components.
"Repairing existing parts (as opposed to manufacturing new parts) is often a more cost effective and efficient way of keeping military aircraft in the air," says Defence researcher, Kevin Walker.
"In conjunction with RMIT and industry partners, we have developed laser-based additive manufacturing repairs that can remediate faults such as corrosion, wear and fatigue cracking.
"In some cases we can even improve the properties of the part to be even better than the original."
Walker's team used this technology to repair the rudder anti-rotation bracket on the F/A-18 aircraft, a repair that has progressed through to full design acceptance and certification for flight.
Work is now underway on another example, a landing gear component on the C-130J Hercules military transport aircraft.
"There are four of these landing gear components on the C-130J, and typically, two to three out of the four suffer from corrosion every six years," Walker explains.
"For this landing gear component we have developed a laser-based cladding repair that uses stainless steel powder which we expect will have better corrosion resistance than the 4140 steel forging of the original component."
On-base manufacturing
As part of The Technical Cooperation Program with the USA, UK, Canada and New Zealand, DST is working with international partners to explore the possibility of having additive machines for both repair and manufacturing, located at military operating bases. The work is currently focused around quantifying the variability in properties which occurs in additive manufacturing. This is seen as an important question to address for certification in aerospace applications in particular, but is important for all applications.
"For example, the US Navy is already installing additive manufacturing capability on ships so we have a lot of common interest in this field," says Walker.
"The ability for parts to be repaired on an operating base will simplify the logistics of operations and further increase the speed at which Defence platforms can return to service."
Put simply, a maintainer of a Defence platform operating overseas could upload a Computer Aided Design file and print the part when required. This would reduce the supply chain timeline and nullify the need for large warehouses full of spare parts, resulting in increased warfighting readiness at a reduced cost. Additive manufacturing also offers the prospect of manufacturing parts of similar strength but significantly reduced weight due to the ability to print complex geometry.
Although Walker admits that the manufacturing and full-structural repair of critical parts may still be five to ten years away, his team is contributing to world-wide efforts such as the Technical Cooperation Program to achieve that. This work builds on the achievements already made around geometric restoration (non-structural) repairs and the manufacture of secondary and tertiary parts.