Going all out to out-think radar threats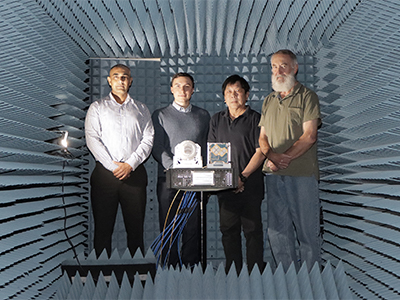 Defence scientist Manik Attygalle is devising unique techniques to keep our military platforms safe. Dr Attygalle's team is developing ultra-wideband electronic warfare (EW) systems, assessing various unique technologies, both analogue and digital, that will help in developing such systems. "These ultra-wideband systems are essential to counter next-generation threats which are moving to higher frequencies and wider bandwidth," he explains. "New threats out there are employing sophisticated signal formats and protection technologies that can, for example, jump between frequencies to avoid being jammed. Our next-generation EW systems have to match threat advances in order to be effective."
Apart from building electronic solutions in-house, this research program also taps into academic expertise. There are currently two collaborative research projects on the go: one with University Technology Sydney (UTS) and Macquarie University (MQ), and the other with the University of South Australia (UniSA).
Unprecedented bandwidths, simple concept
The UTS/MQ project has developed an interesting analogue radio frequency (RF) beam steering system using "meta-surfaces". DSTG's engineering facility at the Edinburgh site is supporting the activity by manufacturing prototype systems and carrying out testing. This very special technique moves meta-surfaces to steer or shape an RF beam over a two-dimensional area. Beam steering is important for both transmit and receive functions in many RF systems, either to increase the transmit power or increase detection sensitivity. The research prototypes are achieving remarkable bandwidths.
"What we have is a unique, partly mechanical system. We need to rotate the meta-surfaces to steer the beam, but that can be done very fast," says Dr Attygalle. The resulting solution is far less complex than other contemporary electronically adjustable radar systems. The research project with UniSA, where Dr Attygalle is currently an adjunct associate professor, is looking at digital solutions to achieve the same beam steering functionality.
Australian-first system capabilities
While beamforming is located at the "front-end" of RF platform protection systems as the signal leaves the transmitter/receiver (transceiver), the team is also examining other subsystem modifications that will help improve ultra-wideband transceiver technology. "We are pushing ahead with 'back-end' digital transceiver development as well, because current technology is not capable of dealing with our requirement for instantaneously wide bandwidth and non-continuous frequency bands."
There are many complexities that come with that combination of requirements, such as sensitivities, power, latency and dynamic ranges. That's why the team is excited to have come up with an Australian-first ultra-wideband transceiver design.
The team's high-performance circuitry looks like achieving both wide bandwidth and ticking the box on the necessary performance metrics. The long-term plan, in line with Defence's vision and supported by this project's Defence stakeholder, will be to transition the solution and associated manufacturing techniques to industry partners, transferring skills along the way and building up industry as a fundamental input to Defence capability.
Dr Attygalle says his interest and passion is driven by working with cutting-edge technology. "As well, this work is addressing a unique capability gap for Defence," he says. "We are coming up with new solutions using multiple technologies – trying to integrate them to come up with an important new capability."