Defence invests in the next generation of CBRN scientists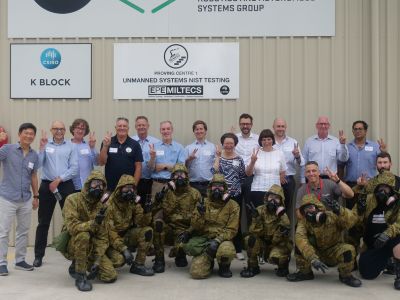 A Defence postgraduate training initiative will boost the pool of STEM professionals capable of developing solutions that will enable Defence, national security and first responders to operate safely and effectively in chemical, biological, radiological and nuclear (CBRN) environments.
The Postgraduate Research for OCE STaR Shot (PROCESS) Academy was recently launched in Brisbane, in the headquarters of Defence industry partner EPE.
Dr Nick FitzGerald is Science, Technology and Innovation Lead for Defence's Operating in CBRN Environments (OCE) STaR Shot. According to Dr FitzGerald, the PROCESS Academy investment will have multiple benefits. 'Beyond the cool science that we can explore, PROCESS helps us understand the OCE ecosystem,' he says. 'At the same time we'll be creating the next generation of CBRN STEM specialists. Like Defence, our industry and agency partners are looking for smart people to fill positions in the future, so they appreciate the forward-looking element of this initiative.'
Seven PhD students in the PROCESS pilot cohort participated in the orientation, which was delivered by industry partners EPE and Leidos with the support of ANSTO, Queensland Fire and Emergency Services (QFES), CASG and the Australian Army.
Imbuing context, connections and community
'Our aim with the orientation was to give the students context, connections and community,' says Dr FitzGerald, who developed the innovative Black Canary wearable, autonomous chemical exposure detection tool at DSTG. 'We wanted to help the students hit the ground running by giving them an understanding of the CBRN problem space they'll be working in. We did this through practical, experiential learning and targeted, classroom-based activities. We also introduced them, over several days, into a new network of professionals and experts in the CBRN defence and national security space, thereby building a sense of community.'
Dr FitzGerald believes imbuing students and academic supervisors with an understanding of the problem space will improve the quality of the research, and will lead to chance and coordinated interactions with potential employers beyond Defence.
Army supported the event by providing access to real CBRN protection, detection and hazard management equipment and by delivering an in-person introductory presentation on the first day of the "O" Week (delivered by the CBRN cell of Army Headquarters Combat Support Directorate).
Leidos, which holds the Land 2110 Phase 1B contract for the provision of CBRN materiel and associated training, provided members of its training team to explain the military equipment (including examples of newly acquired Defence materiel) and to outline how it is being used in threat detection, identification, monitoring, warning and protection tasks.
At the EPE proving grounds the students donned the MOPP-4 CBRN protective suit and carried out representative operations to experience for themselves the difficulties experienced by first responders and warfighters.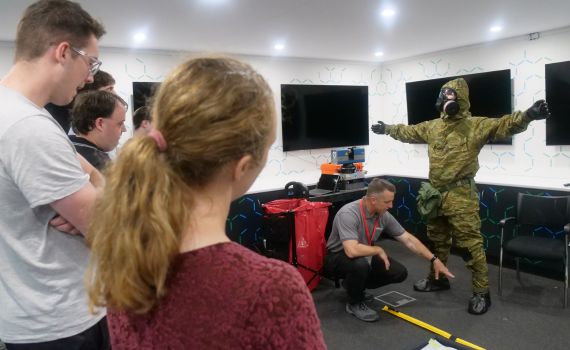 Experiencing difficulties first-hand
The PROCESS orientation was both enjoyable and valuable says student Lize Coetzee. She was grateful for the chance to hear from many industry partners and experts about various aspects of CBRN environments. 'This deepened my understanding, particularly about the reality of being out in the field and what a soldier or first-responder might value in their equipment,' Coetzee reflects. 'One highlight was the opportunity to complete a variety of activities while wearing full CBRN kit which gave me first-hand experience in how difficult it is to perform activities requiring dexterity, communication, and physical effort. These are practical considerations that I had not thought of previously, but which will help guide my own research to better meet the needs of end users.'
Coetzee is developing a laser sensor which can be operated at a distance of 10 metres to identify a variety of chemical and biological hazards.
Industry partners see benefits
EPE Managing Director Warwick Penrose says his company's support of PROCESS has an emphasis on practical immersion to build an awareness of the current Defence CBRN baseline capability. 'This is in order to build the student's understanding of the challenges that operators face when working in CBRN environments,' he says. 'At the completion of this training the PhD students had a better understanding of how Defence will apply the research being funded via the OCE STaR Shot, so that the benefits of their research can be applied more quickly.'
Looking to learn more about the Operating in CBRN Environments (OCE) STaR Shot?
The threat of CBRN attacks against military forces and civilian populations is growing which means our forces must be able to respond faster and more flexibly to CBRN events.
Click here to read all about how we're enabling the joint force to operate safely and effectively in contested CBRN threat environments.