Partnership Matters |
April 2018 Issue

DST continues to lead world in fatigue testing
DST has collaborated with industry and the United States Navy to develop the world's first full scale structural fatigue test rig that will accurately replicate the loads and forces experienced by a helicopter in flight.
A retired US Navy Seahawk recently arrived at DST's Melbourne laboratory allowing Defence scientists to undertake the fatigue testing program. The outcome could transform how military helicopters are managed, potentially reduce maintenance costs and increase platform life.
While full-scale fatigue tests are routinely conducted for fixed-wing aircraft, the complex, high-frequency flight loading of helicopters has been particularly challenging to replicate in the laboratory. Instead, helicopters are certified using conservative test methods which do not always fully predict the possibility of fleet damage.
Defence has invested $5 million in the project that will continue until 2022. It is being undertaken in collaboration with Defence Capability and Sustainment Group, the US Navy and Australian industries, Nova Systems, Jack Thompson Engineering, Fortburn and Advanced VTOL.
INTERNATIONAL BACKING FOR DST PARTNERED INDUSTRY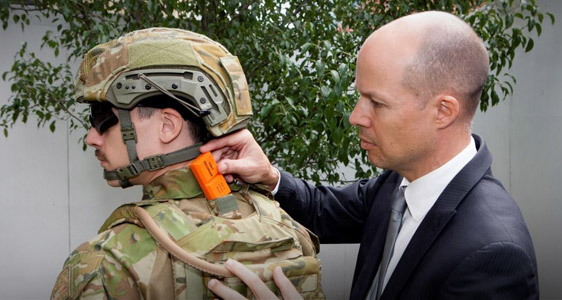 Boeing and its venture fund HorizonX have announced they are to invest $19.4 million in a small South Australian telecommunications company, Myriota, which was also selected last year to develop the equivalent of the Black Box for soldiers.
Adelaide-based Myriota and wearable technology company IMeasureU are developing DST's Fight Recorder technology under the Next Generation Technologies Fund.
The Fight Recorder will be a soldier-worn system aimed at capturing valuable data on the battlefield, and would act as an emergency beacon to reduce the time taken to reach and treat battlefield casualties. It could also have civilian applications in other physically demanding occupations, including emergency services and law enforcement.
The Boeing commitment is the largest investment by the company in an overseas venture, demonstrating the international capability of Australia's SME sector.
SUCCESSFUL GLIDER TRIALS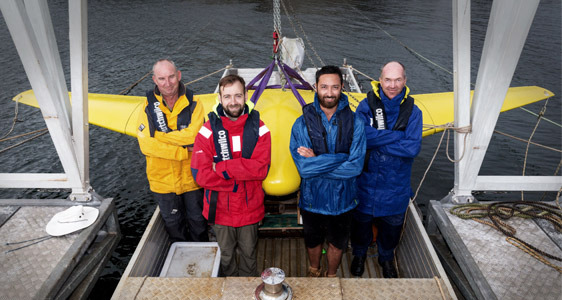 DST and Ron Allum Deepsea Services have successfully undertaken a series of tests on a long-range unmanned underwater vehicle with no mechanical propulsion. The Sun Ray Glider was tested recently at Woronora Dam south of Sydney.
DST Systems and Integration Engineer, Neil Tavener, says the purpose of the trials was to determine the underwater characteristics of the platform.
"There were challenges early in the trial but we have made good progress. We reached a state where we were getting a nice constant glide and collecting some useful data we fed into the control system," Neil said.
The Sun Ray Glider is an underwater flying wing with a variable ballast engine that can be flooded or pumped out to change the vehicle's buoyancy. Movement of water over the wing's surface generates lift resulting in forward motion. It was developed under a research initiative between DST and Ron Allum Deepsea Services of Sydney.
"The Sun Ray Glider is a test platform that could potentially lead to a fleet of pre- programmed unmanned underwater vehicles patrolling Australia's coastline providing situational awareness of the underwater environment," Neil said.
HUMAN BIOTECHNOLOGIES SYMPOSIUM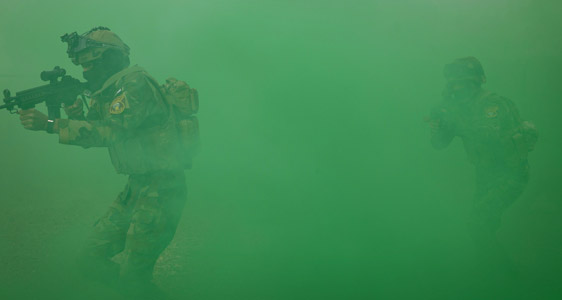 DST is partnering with the University of Adelaide to host the next Emerging Disruptive Technology Assessment Symposium (EDTAS) in Adelaide on 3 and 4 May 2018. The theme of this EDTAS Symposium will be the rapidly expanding and potentially transformational field of Human Biotechnologies research and development.
Participants will explore how Defence can harness the rapid progress in human biotechnologies to achieve greater agility, responsiveness and effectiveness in Defence personnel. It will also provide valuable opportunities to develop new networks and partnerships as well as improve understanding of strategic science and technology challenges.
Attendance at the symposium is by invitation only. If you have expertise in the area of human biotechnologies and would like to receive an invitation, please contact the EDTAS organisers. Numbers are limited. For more information visit https://www.dst.defence.gov.au/event/emerging-disruptive-technology-assessment-symposium-human-biotechnologies or email: rqgnf@qfg.qrsrapr.tbi.nh
EDTAS is a DST program under the Next Generation Technologies Fund.