Partnership Matters |
June 2018 Issue

Australian and US universities collaborate in Defence research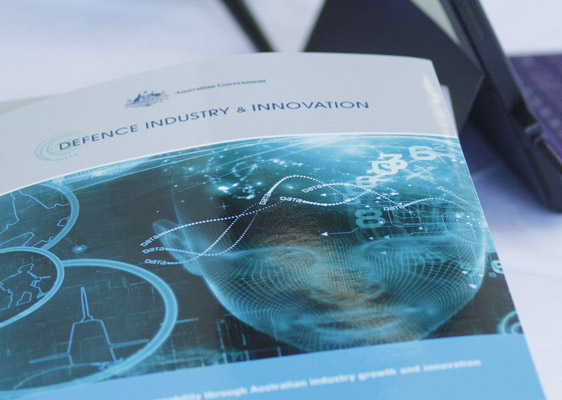 Four Australian universities have been granted funds that will enable them to collaborate with their US counterparts on priority research projects for Australia's Department of Defence and the US Department of Defense.
The Australian universities have been awarded almost $6 million from the Next Generation Technologies Fund and under the Australia/US Multidisciplinary University Research Initiative (AUSMURI).
The Government has invested $25 million into AUSMURI to provide financial support for Australian universities which could participate in the US Multidisciplinary Research Initiative (MURI) but were not eligible for grants from the US Department of Defense.
Griffith University has been awarded a grant of almost $3 million to work with the University of New South Wales and University of Technology Sydney on integrated quantum sensing and control for high fidelity qubit operations in collaboration with US universities including Duke University, the University of Oregon and the Massachusetts Institute of Technology.
Sydney University and the University of New South Wales have been awarded $3 million and will partner with their US counterparts including the University of Tennessee, Ohio State University and Virginia Polytechnic Institute on a project in material sciences. The universities were chosen from a combined pool of over 400 US/AUS proposals. For further information on the AUSMURI program visit www.business.gov.au/cdic.
DEFENCE SEEKS INNOVATIVE CONCEPTS TO ENHANCE UAS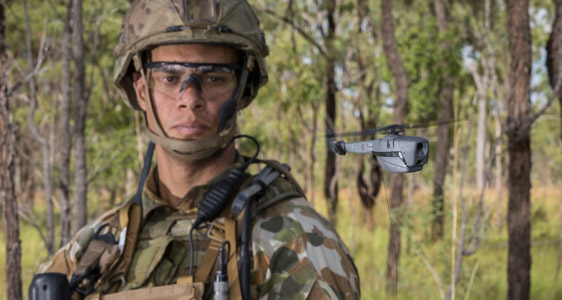 Defence is inviting Australian small and medium enterprises (SMEs) to submit technology proposals that make small, fixed-wing uninhabited aerial systems (UAS) harder to detect.
Defence is looking for outcomes to reduce both the visual and acoustic detection of UAS from ground-based observation without disrupting the operation of the aircraft. The proposals are being invited under the Small Business Innovation Research for Defence (SBIRD) initiative of the Next Generation Technologies Fund.
Funded proposals will be eligible for up to $100,000 for completion within nine months. If successful, they will then be eligible to apply for funding to support further research and concept maturation within 24 months, with maximum funding of $750,000.
Stood up specifically to stimulate innovative research for Defence by SMEs, SBIRD is the first project under the Next Gen Tech Fund requiring a novel application of material sciences and advanced sensors.
Further information about the SBIRD program and how to submit proposals for this project is available from the Centre for Defence Industry Capability website.
QUEEN'S BIRTHDAY HONOURS FOR DST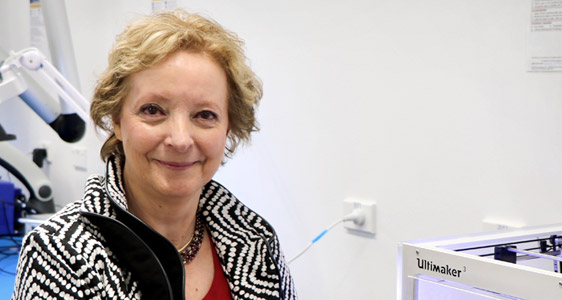 Chief Scientist Strategy and Program, Dr Janis Cocking, has received the Public Service Medal and a former DST Board Chairman, Neil Edwards, an Order of Australia award in the 2018 Queen's Birthday Honours.
Dr Cocking has been honoured for outstanding service in the field of Defence science and technology. She has been officially recognised for driving the strategic innovation agenda for DST as Chief of the Science Strategy and Program Division and strengthening Australian Defence expertise and research infrastructure through international collaboration.
Acting Chief Defence Scientist Dr Todd Mansell said "as the lead of the Next Generation Technologies Fund, Dr Cocking continues to demonstrate her commitment to the future of science and we are very proud of her significant contributions over many years."
Neil Edwards was awarded an Order of Australia for outstanding service as Chairman of the DST Advisory Board from 2008 to 2014 and for his deep interest and understanding of Defence science and its support to the Australian Defence Force.
CALL FOR PAPERS FOR DST INTERNATIONAL CONFERENCE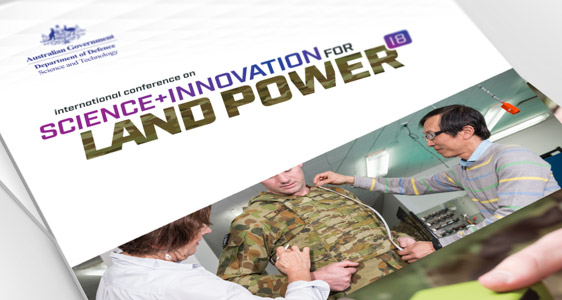 DST has called for papers for a complimentary conference to be held in conjunction with Land Forces 2018 in Adelaide. The International Conference on Science and Innovation for Land Power 2018 (ICSILP 2018) will be held on 5 and 6 September.
ICSILP is for defence researchers, industry professionals and academics interested in transforming the military land force through science, technology and innovation.
The conference will focus on innovation through technology convergence for land power with topics covering trusted autonomy for land forces, and technology convergence and innovation. The conference will include invited and technical presentations, interactive sessions, and a panel discussion with well-regarded national and international defence science, industry and military representatives. Further information is available on the DST website.
LINKING IN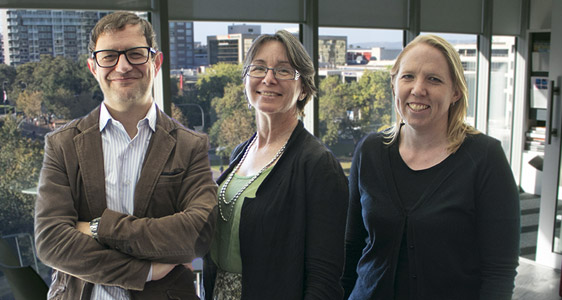 DST's Associate Directors (L-R): Robin Nicholson (DIP), Helen Dorsett (DIN) Fiona Fletcher (DSI).
Three DST Associate Directors of state-based university defence science networks are playing a key role in facilitating collaboration. Fiona Fletcher (MD) was recently handed the Victorian Defence Science Institute (DSI) baton by outgoing DST Director Regina Crameri, Robin Nicholson (NSID) has taken up the inaugural associate directorship with South Australia's Defence Innovation Partnership (DIP) organisation, and Helen Dorsett (MD) has similarly taken up the first DST placement in the New South Wales Defence Innovation Network (DIN) as its Associate Director.
Helen, Fiona and Robin are the interface between Defence and science academia. They help Defence access capability inside these networks, and also educate the universities about defence science and how Defence does business.
Currently the DSI has all eight Victorian universities as members, DIP sources from all three of South Australia's universities, and seven NSW universities have joined DIN.