Partnership Matters |
September 2018 Issue

SCINDICATE Success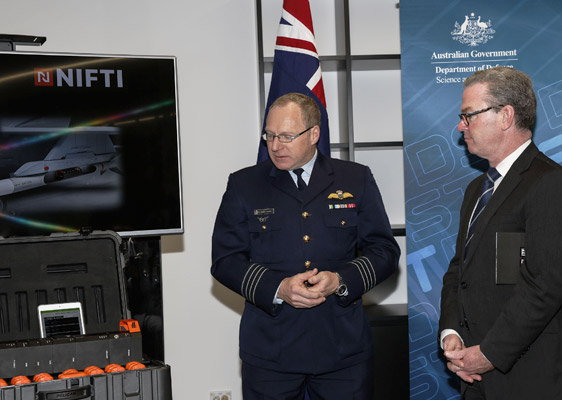 Over 1200 people attended DST's premier partnership and engagement event, SCINDICATE 2018 at DST's Fishermans Bend Laboratory on 29-30 August. The event was officially opened by newly appointed Minister for Defence Christopher Pyne.
The SCINDICATE program, the fourth such partnership event, included presentations, panel discussions, technology pitches and briefings on DST partnering mechanisms and technologies. Attendees also had the opportunity to meet and greet DST division chiefs and research leaders, visit the site laboratories and display stands which showcased Defence technologies. The Defence Innovation Hub and the Centre for Defence Industry Capability also participated in the event.
During his visit, Minister Pyne announced international aerospace company, Leonardo Engineering, would establish a helicopter repair facility in the Fishermans Bend precinct being redeveloped by the Victorian government. He also received a novel flight instrumentation kit from SME Defence Innovations and handed it over to the RAAF. The DST conceived Non-Intrusive Flight Test Instrumentation (NFTI) kit has the ability to carry out in-flight tests without the need for time-consuming aircraft modifications.
Minister Pyne also saw a demonstration of Infinite Studio, a multi-spectral simulation software based on DST's VIRSuite visualisation system. Consilium Technology, a South Australian SME, has further developed the software which it has licensed from DST for worldwide sales.
AUSTRALIAN INDUSTRY DEVELOPS A NEW TOOL AGAINST TERRORISM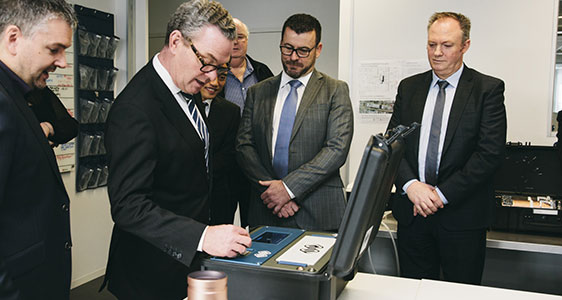 Australian industry will manufacture a unique device capable of rapidly detecting homemade explosives and provide security agencies with a powerful tool against terrorism.
Minister for Defence Christopher Pyne launched a prototype of the Greyscan explosive detection device while visiting the Grey Innovation Group facilities in Melbourne on 7 September.
He commended the company on the pioneering product which he said would help make Australians safer. "This is an exciting technology which addresses the growing need for detection capabilities at high risk locations such as Defence and police facilities, cargo handling facilities, entry and exit points for large events and of course in the aviation market," Minister Pyne said.
It is estimated that the establishment of the production facility in Melbourne will create approximately 63 jobs, either directly with the company or through the manufacturing partners.
The Greyscan technology was developed by the University of Tasmania and matured with funding from the National Security Science and Technology Centre which is part of Defence Science and Technology.
The United States Transport Security Administration is planning to trial the technology as part of its aviation security measures, recognising that inorganic explosives trace detection is a capability gap which the Greyscan technology fills.
AGREEMENT LEADS TO INFINITE POSSIBILITIES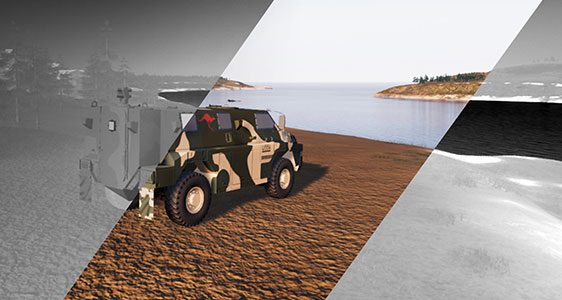 State-of-the-art multi-spectral simulation software, developed by Defence Science and Technology (DST), has been licensed to Adelaide SME Consilium Technology to be marketed globally as Infinite Studio.
DST has signed a licensing agreement for the technology which will support virtual and constructive simulation activities for Defence and civilian applications. The technology allows users to create real-time simulations of the world in the visible, infra-red and ultra-violet parts of the electromagnetic spectrum using affordable desktop computing hardware and modern gaming engines.
Infinite Studio builds on DST's multi-spectral visualisation system, VIRSuite, which represents over a decade of research and development. Consilium Technology has added significant new capability, performance and fidelity to take the technology to a wider range of markets and application domains.
INTERNATIONAL CONFERENCE ON SCIENCE AND INNOVATION FOR LAND POWER (ICSILP)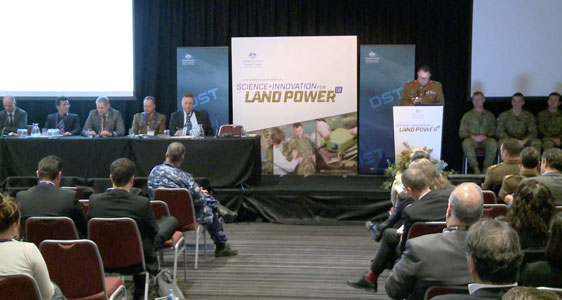 During Land Forces 2018 Defence Minister Christopher Pyne opened the International Conference on Science and Innovation for Land Power organised by DST. Previously known as the Future Land Force Conference, ICSILP has become a leading international forum for the discussion of future land domain capabilities.
Experts from 8 overseas countries discussed autonomy, technology convergence and human performance. A highlight of the conference was the panel discussion on the future soldier combat ensemble.
During the conference DST signed a Strategic Alliance with L3 Technologies to undertake maritime research in undersea command and control systems, spectrum sensing and shaping, and cyber assurance technologies. L3 Technologies became DST's 15th Strategic Alliance partner. Also signed was a collaboration R&D program with Daronmont Technologies to research complex high technology electronics and software-intensive systems.
PODCASTS ON NEXT GEN TECH FUND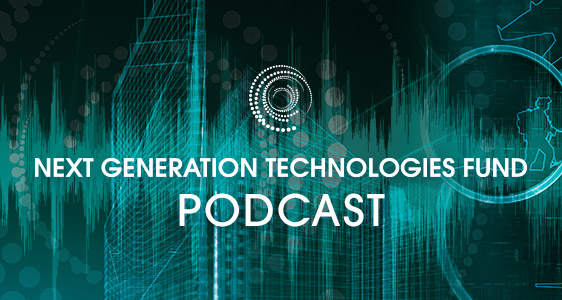 A series of podcasts on various programs relating to the Next Generation Technologies Fund can be found on the DST website.