Survival Aid For Encumbered (SAFE)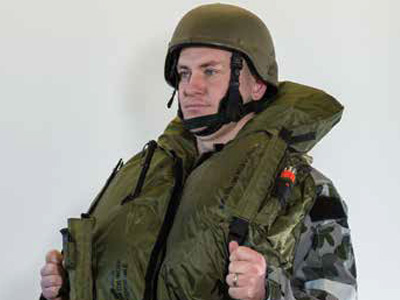 The Survival Aid For Encumbered (SAFE) combines the buoyancy of the existing lifejacket with additional small inflatable bladders attached to the thighs.
If the encumbered wearer finds themselves in water, their lifejacket is inflated via the manual or automatic gaseous activation system. The SAFE valise is then opened and orally inflated via the retractable inflation tube.
Initial testing indicates this system should reduce the risk of drowning in exposed sea conditions.
This device has the potential to improve the safety of all heavily encumbered military personnel involved in waterborne operations. It also has wider application for all encumbered users in other government agencies and the commercial field.
Industry experience required
A provisional patent has been filed for the SAFE, which is currently at Technical Readiness Level (TRL) 3.
The Navy Technical Bureau (in conjunction with DST Group) is seeking interest partners to move SAFE from the workshop to Naval usage.