2020 Honours Scholarships Program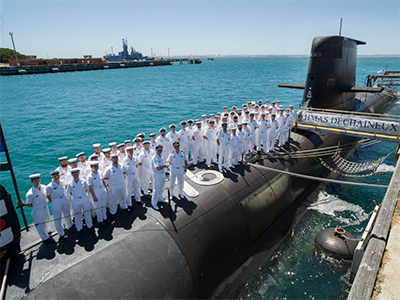 The Research Network for Undersea Decision Superiority is offering an Honours Scholarship Program for 2020.
Up to fifteen scholarships valued at $7,500 each over 1 year will be available to excellent students who are enrolled at one of the RN-UDS seventeen member universities.
The Scholarship Program will help universities to identify and engage with talented students early, to develop an interest in pursuing a career in research disciplines relevant to the Network's Strategic Investment Plan. Applicants must be intending to enrol in an honours year or fourth year engineering research project in the 2020 academic year, must be an Australian citizen and their planned research project must demonstrate alignment with at least one of the four themes of the RN-UDS Strategic Plan.
Research projects do not have to be specifically related to Defence or the Future Submarine Project.
Student applicants need to provide:
An application form including a signature from the head of school/discipline of their enrolling institution.
Their Curriculum Vitae, including academic transcripts and the names of 2 academic referees.
A brief covering letter (no more than 2 sides A4). The letter should explain why they are interested in human sciences and how their skills, attributes and experience make them a good candidate for the award.
Evidence of Australian citizenship (copy of birth certificate, passport etc.).
The closing date for applications is 17:00 (AWST) Friday 10 January 2020.
Further information on eligibility and how to apply is available in the 2020 Honours Scholarship Program Guidelines. Enquiries can also be directed to the Network Director, Sharon Humphris, at Funeba.Uhzcuevf@phegva.rqh.nh or 08 9266 5188.