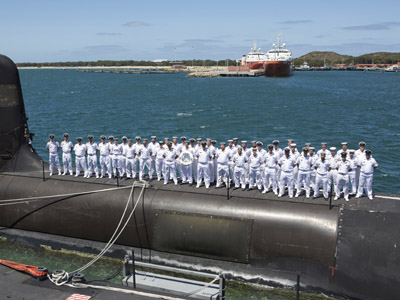 DST and the Future Submarine Project, in conjunction with Australian partner universities, have established the Research Network for Undersea Decision Superiority, to build world-class research capabilities and capacities and leverage the significant skills, expertise, networks and infrastructure of Australia's research base for sovereign benefit.
This initiative focuses on the human element in undersea decision making and will provide a mechanism to fund and oversee research projects that lead to improved decision making in the context of future submarine operations.
The inaugural network membership make up has now been finalised. Curtin University will initially act as the network agent.
RN-UDS Inaugural Members
Charles Darwin University
Curtin University (Network Agent)
Edith Cowan University
Flinders University
La Trobe University
Macquarie University
Monash University
Murdoch University
Queensland University of Technology
University of Melbourne
University of New South Wales
University of Queensland
University of South Australia
University of the Sunshine Coast
University of Tasmania
University of Western Australia
Victoria University
Membership will be reviewed periodically by the Network Advisory Board and new members may be invited to join. Inactive members may be asked to leave the network.
Academics from Network members are able to apply directly for project funding opportunities presented by the network. Non-member academics, from DSPD signatory universities, are eligible to participate in projects through collaboration with Network members through the usual subcontracting processes under the DSPD. Projects will be led by academics from network members.
Up to $2 million per annum of funding will be available for suitable projects and other network activities such as seminars, scholarships and administration. Membership does not guarantee project proposal funding.
The network is governed by an Advisory Board that includes representation from DST and network members. An interim Advisory Board will govern the network for the first 12 months of operation. The interim Advisory Board is chaired by retired submariner Steve Davies (CDRE ret), supported by independent members Dr Margaret Law (Naval Group Australia) and Pat Hall (Independent Director), DST representative Dr David Gamble, and university representatives Dr Andrew Dowse (Edith Cowan University), Pru Ayling (University of Western Australia) and Tim Walton (Curtin University).
Further information can be found in the Membership Information Pack. Enquiries can also be directed to the Project Director, Sharon Humphris, at Funeba.Uhzcuevf@phegva.rqh.nh or 08 9266 5188.