Event |
Partnerships Week 2016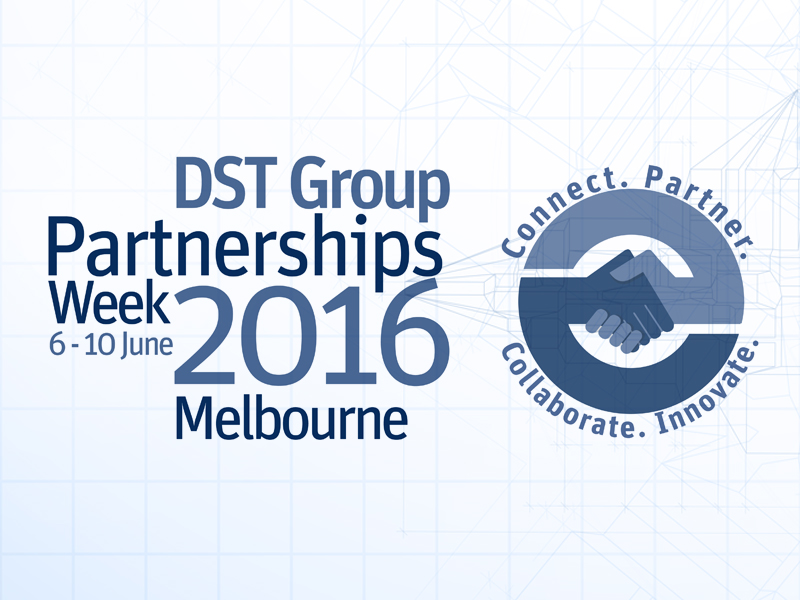 DST Group hosted another successful Partnerships Week event at its Melbourne laboratory in June 2016.
Partnerships Week is part of DST Group's ongoing commitment to expand our external engagement and outreach activities by 'opening our doors' to representatives of Australia's innovation sector. These open days will include presentations, access to DST researchers, research capability displays, case studies of success stories, technology demonstrations and site tours.
"Partnerships Week 2016 at our Fishermans Bend site was a resounding success by many measures. The feedback we are receiving from industry, universities and Defence is all positive with the event solidifying our place in the innovation landscape as national leaders in partnering and collaboration." – Chief Defence Scientist, Alex Zelinsky
It was the first time in many years that the Fishermans Bend facility had opened its doors to the wider Defence community and we were able to showcase our facilities and capabilities with tours, presentations, workshops and technical pitch sessions.
Partnerships Week 2016 was an opportunity to present to the world both how and where DST wants to collaborate. During the week multiple conversations sprung up around collaboration, commercialisation activities and other ways to partner with DST.
During our 2016 Open Days, several DST researchers presented innovative technologies to an audience of current and prospective partners. You can see these technology pitches in the videos below, or go direct to the playlist on the DST YouTube channel
Our objectives are to:
Showcase DST's major science and technology (S&T) capabilities and future research priorities
Create new relationships and strengthen existing partnerships
Promote innovation and engagement initiatives
The event provided an opportunity for current and prospective partners to:
better understand DST's current capabilities and future research priorities
meet and connect with senior researchers
learn about research and development (R&D) funding opportunities
network with representatives from peer organisations
hear about opportunities to collaborate with DST on new research programs.
Attendees included representatives of Australia's innovation sector, industry (including small and medium enterprises) and research organisations, with an in-house research and development capability that can complement and build on DST's current and anticipated research activities.
The program for Partnerships Week 2016 can be downloaded here.
Divisional presentations
View the attachments on this page for the presentation slides that were delivered by each DST Group Division.
Partnerships Week 2016 Survey