Podcast |
Mastering the battlefields of the 21st century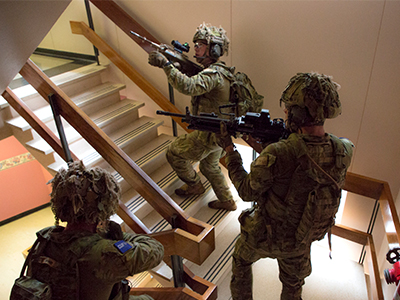 Transcript
[Music plays and fades]
Alison Caldwell: Hi, I'm Alison Caldwell with another podcast from Defence Science and Technology.
The trenches of France, the jungles of Vietnam, the mountains of Afghanistan – they've all been backdrops to war. But more recently, it's the cities of Iraq and Syria which have become the setting for war.
In the future, networked sensors and analytical tools will play a critical role in urban conflicts. Defence Science and Technology (DST) is fostering collaboration with Australia's allies to harness new technologies to give our military personnel the edge in the battle for cities, while also helping to protect innocent civilians.
Mastering the battlefields of the 21st century
Alison Caldwell: Strewn with rubble and smoking wrecks, the street is eerily quiet.
An Australian soldier's eyes flick left, right, up, down seeking tell-tale movement on rooftops and in doorways, windows and alley ways. Every sense is on high alert as she darts from cover to cover, anticipating her first contact with an enemy she knows is watching and waiting.
In military speak, this city street is a contested urban environment or CUE. We know it from war video games, Hollywood movies and the television news footage which brings the horrors of foreign conflicts into our lounge rooms.
For our front line soldiers this is a modern-day theatre of war; A 21st century battlefield in which a determined enemy is entrenched in the maze of streets and buildings.
What makes this deadly scenario even more stressful for our soldiers is their mandate to protect civilians whose neighbourhoods have become urban killing fields.
DST fostering next-gen technology
Alison Caldwell: But, what if tactical commanders could pinpoint the location of adversaries, see and track them using cameras and sensors on the ground and in the air, and use technology to eliminate lethal threats? What if this technological edge could also reduce the risk of death or injury, not just for our troops but also the residents caught up in the conflict?
DST is working to make this possible by fostering the development of the next generation of intelligence, surveillance and reconnaissance systems.
The Contested Urban Environment Strategic Challenge (CUESC) is under the five-nation Defence Technical Cooperation Program, with the first live trial staged in Adelaide late last year under the leadership of DST. One hundred Australian Defence Force personnel teamed up with 80 scientists, technologists and researchers from Australia, the United States, Canada, Britain and New Zealand over 10 days to test ground and air-based sensors and integration technologies for linking these sensors together.
Sensors to single out enemy forces
Alison Caldwell: To make the simulations even more realistic, the CUE teams were given access to the now-deserted former Adelaide Dental Hospital building and the Residential Building at the old Royal Adelaide Hospital next door. This allowed soldiers to engage enemy forces and capture high-value targets in a series of urban warfare scenarios.
Overhead, aircraft equipped with camera systems allowed tactical commanders to view large sections of the Adelaide CBD and zoom in on targets of interest, including buildings and cars occupied by the enemy.
Integrated perimeter surveillance systems and feeds from air and ground systems supported linked sensors, which were cued to detect movement in and around the buildings.
Allies prepare for 'unique challenges' ahead
Alison Caldwell: Dr Justin Fidock was the Project Leader for CUE Adelaide 2017.
Dr Justin Fidock: "Urban warfare has always presented unique challenges. There's been a growing sense that we needed the capacity to better meet these challenges with technologies that not only help our military personnel be more effective, but also reduce the potential for harm to them and innocent civilians.
"CUE Adelaide allowed us to focus our energies on identifying the range of technologies we can develop and put in the hands of our military personnel when they're operating in contested urban environments in the future."
A 'leap forward' towards long-term solutions
Alison Caldwell: Bringing the five partner nations together for the first time in Adelaide was a coup for Australia and a huge leap forward for the program. As well as testing their respective systems, the scientists and technical specialists were able to network and get invaluable warts-and-all feedback from the military personnel.
But Dr Fidock says it will take time to refine and integrate the disparate systems. Making data from multiple sensors easily accessible and understandable for commanders and troops is another hurdle to overcome.
Dr Justin Fidock: "There are no quick fixes. But, CUE is not about quick fixes, it's about long-term solutions.
"Our aim is to give our men and women on the front lines useful technology that produces timely, high-calibre information. They need to be confident they know what they'll be facing when they step onto a street or into a room in a contested urban environment."
"Quality information means more options and more choices, which will reduce the risk of harm to them and civilians."
Defence technology… 'A race that never ends'
Alison Caldwell: The Technical Cooperation Program is also being driven by the fact that our adversaries are adapting new technologies at a rapid rate. Dr Fidock again.
Dr Justin Fidock: "What the history of defence technology tells us is that sooner or later every advance is superseded.
"Any advantage is fleeting, so we can't rest on our laurels. We need to adjust and respond to new threats because our enemies will.
"It's a race that never ends."
[Music plays and fades]
Alison Caldwell: DST will keep you posted on the advances being made by the teams working on these high-tech intelligence, surveillance and reconnaissance systems. Keep up-to-date with other amazing developments in Australian defence science by following us @DefenceScience on Twitter, or download the DST App from Google Play or the App Store.
This podcast is a production of Defence Science and Technology, part of Australia's Department of Defence.
That's all for now. See you next time.
ENDS