Podcast |
A single-screen solution to emergency responses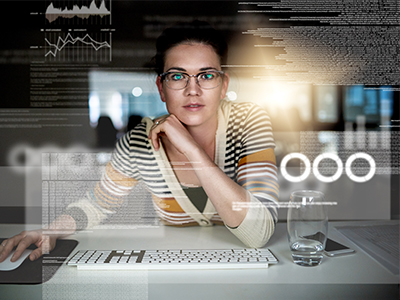 Can a web-based application enhance situational awareness and planning during ADF operations?
Transcript
[Music plays and fades]
Alison Caldwell: Hi, I'm Alison Caldwell with another podcast from Defence Science and Technology.
Alison Caldwell: Defence computer scientists are developing a remarkable web-based application that's already enhancing situational awareness and planning during Australian Defence Force operations. But the app could also help emergency services respond more rapidly and effectively to terrorism events or natural disasters.
Terrorists take dozens of hostages in a capital city…
A destructive cyclone bears down on coastal communities…
A fierce bushfire rages out of control, threatening lives and property…
These nightmare scenarios have become all too familiar around the globe.
Each one poses a massive logistical challenge for the front-line rescue and emergency services and the government agencies called on to respond.
Where are the nearest hospitals? Do extra resources need to be flown in to support them? Are airports and roads still open? Is the phone network working?
Co-ordinating an action plan means collating and analysing constantly changing information from dozens of sources.
And, a rapid response is critical – decisions delayed may mean lives lost.
In the past, gathering and sifting through mountains of data meant constantly switching back and forth between networks across multiple systems. For the command personnel, trying to filter and fuse the information into a clear picture as the situation unfolds often becomes an exhausting mental juggling act that can last hours or days – or even longer.
Now, a new tool being developed by computer scientists at Defence Science and Technology (or DST) has the potential to better co-ordinate support efforts and speed up response times during a natural disaster or civilian emergency. DST helps inform the Australian Defence Force's operational decisions, ensuring equipment and personnel are deployed effectively wherever they are needed around the region, around the clock.
For the first time, the Situation Awareness Knowledge Infrastructure tool – SAKI, for short – gives command centre decision makers access to multiple data streams in virtually any format, allowing them to view the information on one screen.
Hing-Wah Kwok and Daniel Pang head up the SAKI team. What makes their work even more exciting is that their system is web based and could be licensed to civilian users – much like the myriad of business software applications on the market today.
While SAKI was created to support Defence operations, it could also be used by police, fire and rescue services to co-ordinate the response to a cyclone, bushfire, flood or other emergency.
In the case of a cyclone, its current location, intensity, speed and direction all need to be tracked. SAKI's Geo application is able to display layers of critical information, such as Bureau of Meteorology data, the population densities of coastal communities, the location and operational status of critical infrastructure and resources that may be needed as the emergency unfolds.
As the cyclone reaches the coast, the various emergency response co-ordinators can overlay information to determine what resources they'll have at their disposal, where these are currently located, and when they'll arrive at the desired locations.
To assist their decision making, the emergency response team will also be able to obtain critical information, such as the size and capacity of local sea ports and airports. SAKI's high-resolution imagery will also allow them to zoom in for a close-up view of these key assets.
SAKI consists of two principal layers – a data layer and an application layer. Information can be drawn from classified networks as well as unclassified sources in almost any format, from simple Microsoft Office Word documents to structured data like Extensible Markup Language, or XML.
A key challenge for the SAKI team was incorporating near real-time, unclassified data into Defence's classified networks. For instance, when monitoring a cyclone, command staff needed to watch its progress on Bureau of Meteorology radar, while also factoring a variety of data – some of it sourced from classified networks.
Previously, it wasn't possible to bring such diverse information streams together on a single interface. But with SAKI, the service infrastructure is able to dynamically integrate the data sets so the information is both searchable and viewable.
Hing-Wah admits acknowledging the provenance of data and helping people to trust it has been a challenge. To help build trust, backlinks allow users to identify the source of each piece of information.
Traditionally, creating a proprietary system like SAKI would involve years of research and development. Instead, the SAKI team adopted a lean start-up methodology by releasing a no-frills product that addressed Defence users' initial requirements.
And, to avoid duplication and wasted effort in software development, SAKI was set up as a development platform so that it could be used by other developers, researchers and analysts. How they use the platform and their feedback helps to further refine SAKI and accelerate its rapid evolution.
The DST team has developed several other apps to manage data, including SAKI Geo, SAKI Search and SAKI Resource View, a mashup of the data available within the system.
However, rather than risk overloading the decision makers with information, the team is exploring ways to allow screens to be customised. Instead of being deluged with data, each user can access just the information they need to perform their role. Hing-Wah said SAKI could also potentially learn what information is most useful to each user's role in much the same way as how Facebook tailors your news feed.
The seventh evolution of SAKI is now in use and its creators are constantly field-testing their assumptions about how to best develop the system for a range of uses. By putting new features into users' hands quickly, they can keep what's of value and discard what's not.
[Music plays and fades]
Alison Caldwell: Like me, I'm sure you'll look forward to seeing the SAKI system play a key role in future emergency response efforts in Australasia – and perhaps beyond.
Keep up-to-date with other amazing developments in Australian defence science by following us @DefenceScience on Twitter, or download the DST App from Google Play or the App Store.
This podcast is a production of Defence Science and Technology, part of Australia's Department of Defence.
That's all till next time.