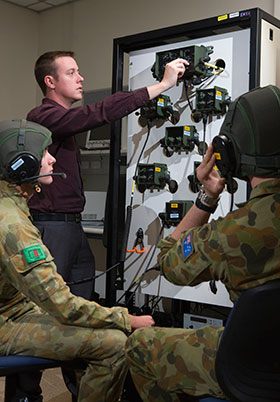 DST Group has been undertaking research on ADF land vehicle electronic systems to enable the modernisation of the current fleets of Bushmaster, ASLAV and Abrams tank, and to inform decisions on acquisition of new vehicles as well as investigations into open systems vetronics concepts.
The purpose of this work is to arrive at a vehicle electronic system design that will enable ready integration of new technology throughout the life cycle of a vehicle without increasing the space, weight and power footprint or negatively affecting crew performance.
DST has established a Land Vehicle Electronics and Architectures capability to investigate the vehicle infrastructure required for accommodation of the advanced technologies prevalent and anticipated in military ground vehicles.
The research critically examines and assesses the electrical power systems, electronics (in particular intra-vehicle networks) and software architectures of the vehicle. A systems integration test-bed is being used by the researchers to explore multiple vehicle electronic configurations.