MH-60R Capability Assurance Program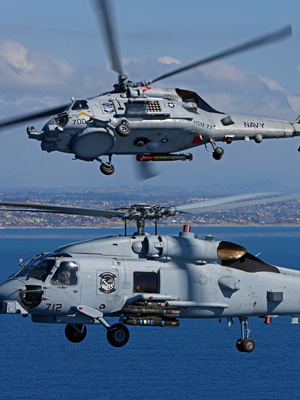 Project SEA 5510 MH-60R CAP aligns the Royal Australian Navy (RAN) Seahawk Romeo (MH-60R) aircraft configuration with that of the US Navy to ensure commonality and interoperability between the two nations, so that engineering and logistic support is available through until the Planned Withdrawal Date (PWD) of the early-2040s.
The role of DST Group is to advise Navy Headquarters, Capability Acquisition and Sustainment Group, the Fleet Air Arm and the Joint Australian/US MH-60R Program Office of the capability impacts and technical risks of the planned upgrades and changes, and assist with achieving the full capability potential of this maritime combat helicopter by providing science and technology (S&T) support where required.
One of the key S&T activities which is supporting the CAP is the Helicopter Advanced Fatigue Test–Technology Demonstrator (HAFT-TD) project, which commenced at DST Fisherman's Bend in 2017. This collaborative research venture between DST and the United States Navy aims to mature the technologies required to make a full scale helicopter durability test a viable option for fleet managers. Faster load application techniques, new control algorithms, smarter test load sequence development and truncation methods are being used to demonstrate that it is possible to accurately apply complex helicopter flight loading within the required testing time.
It has the potential to revolutionise the way helicopters are certified. A successful demonstration could influence future vertical lift projects and lead to innovative sustainment solutions for operational aircraft.