Corporate document |
Cyber 2020 Vision: DSTO cyber science and technology plan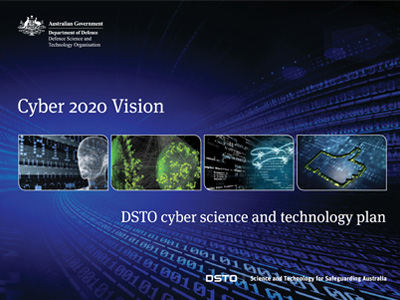 DST Group has developed a Cyber Science and Technology Plan which sets out the organisation's future directions in cyber research.
DST has a whole-of-government role in coordinating science and technology (S&T) for national security. The protection of cyber space and cyber technologies is vital as they underpin commercial and government business and military systems today. Cyber security is one of the key risk areas for Defence and national security.
The DST Cyber Science and Technology Plan is an attempt to address current and future cyber challenges.
It outlines how DST will address the emerging relationship between cyber and electronic warfare, signals intelligence and communications. It looks at ways to ensure that DST's S&T is relevant, resilient and responsive. The plan also highlights how DST will engage with the national community to foster a cohesive, integrated national cyber science and technology capability.
The Cyber Science and Technology Plan is accompanied by an overview document which focuses on the Future Cyber Security Landscape.