Brochure |
Doing business with DST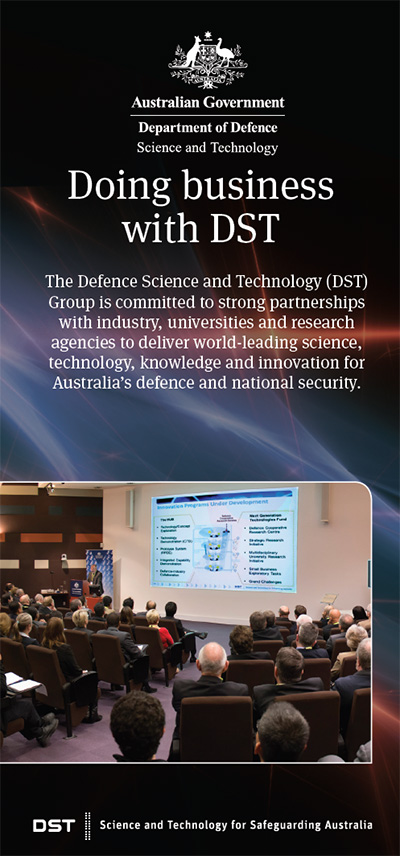 DST is committed to strong partnerships with industry, universities and research agencies to leverage and deliver world-leading science, technology, knowledge and innovation for Australia's defence and national security.
There are many ways in which you can work with DST from collaboration programs or contracts.
DST is interested in collaborating with innovative companies in areas relevant to our science. Collaboration programs include:
Joint Research & Development (R&D)Program. For a mutual project of interest see our Science and Technology Capabilities brochure, to identify where your buiness is best suited.
Industry Alliance Program. These are long term strategic alliances to conduct multifaceted collaborative research with significant industry partners.
The Defence Science Partnerships (DSP) program provides a common pre-agreed framework for Australian universities to work with DST, from contract and collaborative research to post grad student projects and sharing faciities.
DST has a variety of contracting offers from:
Off the shelf goods and services
Standing Offer Panel; and
Capability and Technology Demonstrator (CTD) Program where you can demonstrate your technology.