Corporate document |
DST Strategic Plan 2013-2018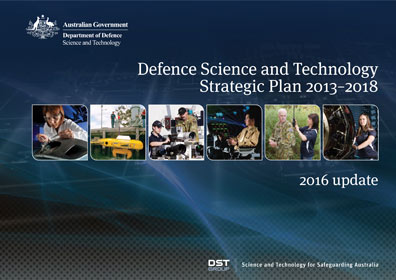 The DST (formerly DSTO) Strategic Plan 2013–18 outlines our role, our strategy and ten strategic initiatives for the five years to 2018.
The plan is our most important corporate document and is central to understanding our organisation, our roles and functions, and our strategic direction for 2013–18.
The plan sets out the direction of our science and technology (S&T) capabilities and will help guide our research, collaborations and business activities. It is the foundation of all our activities as Australia's leading S&T organisation safeguarding the nation by delivering valued scientific advice and innovative technology solutions for our defence and national security.
Implementing the initiatives in the plan will ensure we continue to build on past successes and our strengths as a valued adviser to government, innovation integrator and collaborative partner.
The Plan describes four themes which underpin the core strategy:
delivery of science excellence and outcomes for Defence
shaping defence and national security,
creating the opportunities and anticipating the challenges of tomorrow; and
being a valued organisation with a more collaborative and innovative culture.