Corporate document |
National Security and Intelligence, Surveillance and Reconnaissance Division Strategic Plan 2016-2020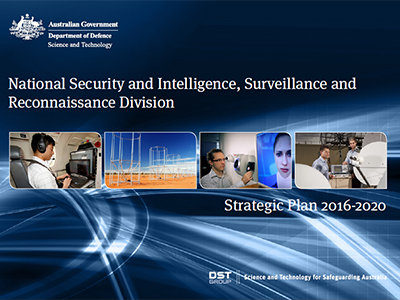 This Strategic Plan sets out the mission, structure and roles of National Security and Intelligence, Surveillance and Reconnaissance Division (NSID), and outlines the strategic directions the Division will take in developing and applying science and technology for the Defence of Australia and its national interests.
The Plan describes four Strategic Research Themes that span divisional structures, and outlines DST Strategic Research Initiatives in Integrated ISR and Space Systems led by NSID.
The Plan shows how NSID will deliver its science and technology programs through collaborative partnerships, transitioning research excellence through to Defence capabilities.