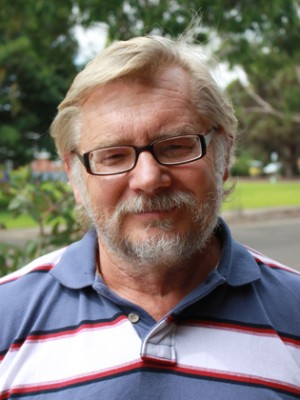 The collapse of the Soviet Union in the early 1990's proved to be a major turning point in the life of scientist Alexei Kouzoubov, who together with his family, travelled half way around the world to begin a new life in Australia.
After graduating in Physics from the Krasnodar University in the South of Russia and then obtaining his PhD from the Institute of High Temperatures of Russian Academy of Sciences (RAS) in Moscow, Alexei worked for several years at the Institute of General Physics of RAS in the hydrodynamics of magnetic fluids.
But it was after the dissolution of the Soviet Union, the resulting economic crisis and fall in the standards of living, that finally prompted Alexei to seek out new opportunities and a different way of life 'down-under'.
"We came to the best possible place on Earth – Australia. A place we had always dreamed about, after reading in childhood such books as "Captain Grant's Children" by Jules Verne."
Arriving in Australia Alexei worked initially at the University of Adelaide, then the University of New South Wales in Sydney and the University of South Australia before finally joining DST Group (formerly DSTO) in 1998.
"My official employment at DST commenced in 1998, but I had spent the previous two years at the University of South Australia under contract to DST, developing mathematical models of the propagation of laser light in ocean water, in support of laser bathymetry research," Alexei explains.
Alexei continued working on various defence applications of ocean optics for the first five years in Maritime Operations Division, then switched to the acoustic problems of Anti-Submarine Warfare (ASW) within the same division.
He undertook work in the area of defence applications of ocean optics, firstly participating in the development of the Monte Carlo model of laser light propagation in ocean water. This model was used to improve the accuracy of such bathymetry system as the DST developed Laser Airborne Depth Sounder (LADS) employed by the Navy's Australian Hydrographic Service for charting Australian waters.
"Due to the scattering of laser light in water, systems such as LADS have an inherent bias in their estimate of the ocean depth, which our model allowed to predict. The model also allowed us to assess the ability of LADS to detect underwater objects such as sea mines. Then, for a different application, I developed a model that simulated the image of an underwater object as seen by an above-water optical sensor such as the human eye or a camera."
In 2003 Alexei switched to working on acoustic aspects of various problems associated with ASW, including the classification of underwater objects by sonar echoes, to assist in distinguishing between sonar echoes produced by a submarine and echoes produced by a sea bottom feature or a school of fish. This is a complex, many-faceted problem, one of the key aspects is understanding the physics of sound scattering from different underwater objects.
"We are trying to understand this physics through acoustic scattering experiments in MOD's Underwater Acoustic Scattering Laboratory. This understanding will hopefully help to improve the accuracy of active sonar classification," says Alexei.
Alexei is also working in cooperation with US Naval Undersea Warfare Center (NUWC) under the Memorandum of Understanding between US and Australia on the Heavyweight Torpedo program, on the development of models of 'bubbly wakes' such as wakes of torpedos, submarines, and surface ships.
"...the wake of a ship may be used by a torpedo to detect and attack the ship."
Recently Alexei spent a year at NUWC under the Defence Science Fellowship program working on the development of wake models, some of which are now implemented in the USN Weapon Analysis Facility (WAF) and its Australian version, the Torpedo Analysis Facility (TAF). The WAF/TAF is a hardware-in-the-loop torpedo simulator used for laboratory analysis of torpedo performance through simulation rather than via much more expensive at-sea firings of exercise weapons.
Working at NUWC in close contact with US scientists allowed Alexei to make significant advances in the development of wake models. Many plans for potential future collaborative research between NUWC and DST were also developed and now, having returned to Australia, Alexei is working on the realisation of those plans.
"The wake model development has two aspects; the theoretical work of creating a mathematical model describing the wake, and the implementation of that mathematical model as an efficient piece of computer software. Another side is experimental work, which on one hand, gives more insight into the physics of a wake and, on the other hand, provides data for validation of the models."
"In our experimental work we collaborate with Maritime Platforms Division and the Australian Maritime College in Tasmania. We also do experiments with bubbly flows in both the controlled environment of MOD's Underwater Acoustic Scattering Laboratory, and also at sea."
Alexei explains the significance of this work to the Navy. "All sorts of wakes play important roles in torpedo operation. For example, the wake of a surface ship wake may be used by a "wake-homing" torpedo to detect and attack the ship. Therefore, it is very important to have computationally fast, but physically accurate models of wakes in the NUWC and DST WAF/TAF facilities to improve the accuracy of our torpedo performance analysis."
Outside of work Alexei has taken advantage of his move to Australia by travelling to some of the most remote parts of the country and across the Tasman Sea to New Zealand.
"As much as I like my work, it's not the only interest in my life. Travelling is one of them. Since moving to Australia we have travelled pretty much everywhere in this country – Cape York, Gulf of Carpentaria, and the Kimberly region just to name a few destinations of our driving trips to the most remote places in Australia."
With his passion for travel and exploration as well as his scientific interest in the maritime field of research, it is clear that Alexei has much in common with Jules Verne, that famous author whose adventure books first inspired him as a child in Russia, so many years ago.