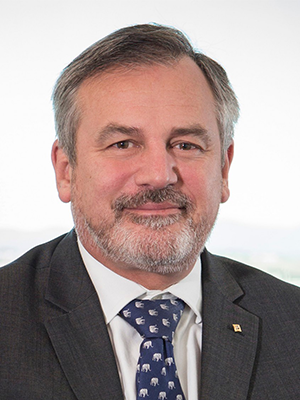 Dr Alex Zelinsky was appointed Chief Defence Scientist and head of Defence Science and Technology (DST), then DSTO, in March 2012.
Dr Alex Zelinsky is Australia's Chief Defence Scientist. His scientific career includes working as a computer scientist, a systems engineer and a roboticist. His career spans innovation, science and technology, research and development, commercial start-ups and education. As Chief Defence Scientist since March 2012, he leads the Defence Science and Technology program within the Department of Defence.
Prior to joining Defence, Dr Zelinsky was Group Executive for Information Sciences at the CSIRO. Dr Zelinsky was Chief Executive Officer and co-founder of Seeing Machines, a high-technology company developing computer vision systems. The company is listed on the London Stock Exchange and was a start-up from the Australian National University in Canberra, Australia, where Dr Zelinsky was Professor of Systems Engineering.
Dr Zelinsky has received numerous awards and recognition of his work. In 2017, he was appointed an Officer in the Order of Australia (AO) in the 2017 Queen's Birthday honours. He has been included in Engineers Australia's list of the 100 most influential engineers since 2009 and in 2015, Engineers Australia awarded him the prestigious M A Sargent Medal. In 2013, he was awarded the Pearcey Medal, the ICT industry's premier prize for lifetime achievement. In 2003, 2004 and 2005, the World Economic Forum selected Dr Zelinsky as a Technology Pioneer. He is a Fellow of the Institute of Electrical and Electronics Engineers, the Australian Academy of Technology and Engineering, the Institute of Engineers Australia and the Australian Institute of Company Directors.
Academic qualifications
Dr Zelinsky has been awarded a:
Bachelor of Mathematical Sciences (Honours), University of Wollongong
Doctor of Philosophy, University of Wollongong
Graduate Diploma, Australian Institute of Company Directors
Completed Advanced Management Program, Harvard University
Honorary Doctor of Science, University of Wollongong
Achievements
Dr Zelinsky's contributions to science have been recognised by numerous science and industry awards including:
Australian Engineering Excellence Awards, 1999 and 2001
Business-Higher Education Round Table Award, 2001
Australian Information Industries Award (iAward), 2002 and 2006
Australian Eureka Science Prize, 2002
US R&D magazine Top 100 Award, 2002
ATSE Clunies-Ross National Science & Technology Award, 2005
Professional Engineer of the Year (Sydney Division), 2009
IEEE Inaba Technical Award for Innovation Leading to Production, 2010
Warren Centre, Innovation Hero Award, 2012
Pearcey Foundation, Pearcey Medal for lifetime achievement in ICT sector, 2013
Engineers Australia M A Sargent Medal, 2015
Dr Zelinsky has been elected as a:
Fellow of the Australian Academy of Technological Sciences and Engineering (FTSE)
Fellow of the Institute of Electrical and Electronic Engineers (FIEEE)
Fellow of the Institution of Engineers Australia (FIEAust)
Fellow of Australian Institute of Company Directors (FAICD)
The World Economic Forum named Dr Zelinsky a Technology Pioneer in 2003, 2004 and 2005.