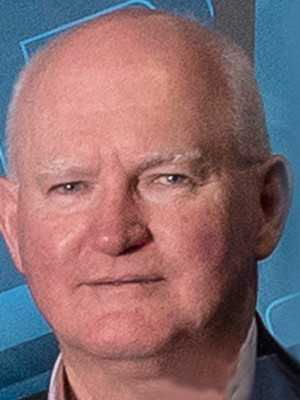 Chief of the Weapons and Combat Systems Division.
Dr Riley was previously Chief of the Maritime Operations Division.
He studied at the Flinders University of South Australia where he obtained a PhD in Atomic Physics in 1985. After completing an Australian Research Grants Scheme research fellowship in the same field in late 1985, he joined private industry as an applications physicist working in the development of instrumentation for the mining industry.
Dr Riley joined Defence Science and Technology (DST) Group (then DSTO) in July 1988, working in the area of sonar signal processing. This work focused on:
development of innovative techniques to improve the capabilities of submarine and surface ship towed array systems; and
airborne sonobuoy systems.
In 1993, he was awarded a DSTO Defence Science Fellowship, which he undertook at the Defence Research Establishment Atlantic in Nova Scotia, Canada, over the next two years. As a result of this he later worked on sonobuoy systems,
Dr Riley and colleagues received the Aeronautical and Maritime Research Laboratory (AMRL) Best Research Award in 1996.
He was appointed as the Navy Scientific Adviser in 1997.
He then returned to DSTO in 1998 as the Head of Airborne Sonar where he led a very active research program supporting:
Royal Australian Air Force (RAAF) P3-C aircraft; and
Royal Australian Navy (RAN) Seahawk helicopters.
Two years later, he was appointed Defence Science Attaché at the Australian Embassy in Washington DC, with responsibility for science cooperation between Australia, the United States and Canada across a wide spectrum of technology areas.
Twelve months into this posting, Dr Riley was promoted to the position of Research Leader, Submarine Operations, and was transferred back to Australia to lead DSTO's site at HMAS Stirling in Western Australia. This work involved:
overseeing science and technology (S&T) programs for the Collins class combat system replacement program; and
evolution of the submarine's sonar systems.
In August 2001, Dr Riley took on a broader leadership role in the Division as the Research Leader, Maritime Combat Systems, where in addition to coordinating DSTO's support for submarines he also had responsibility for S&T support for RAN surface combatants. At the same time, he served as the Science and Technology Adviser for the Air Warfare Destroyer project.
More recently he has completed a three-year term as the Executive Chair of the Maritime Systems Group of The Technical Cooperation Program (TTCP).