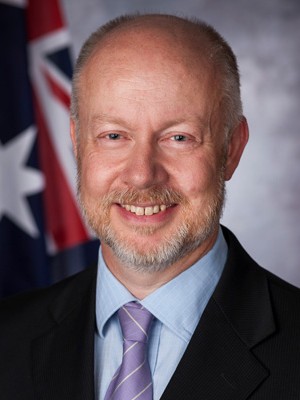 Dr Mike Davies has over 27 years' experience in Defence science and technology (S&T) ranging from researcher to the leader of major interdisciplinary S&T capabilities and teams.
Following completion of a PhD in applied mathematics, Mike worked as a project engineer within the UK aeronautical industry developing design, engineering and production support tools and as a computer programmer with British Steel where he implemented various steel mill support software.
He joined the then Defence Science and Technology Organisation (DSTO) in September 1989 as a Research Scientist in Combat Systems Division where he applied mathematical modelling and computer simulation to the analysis of human performance in ground-based air defence systems and F-111 navigation and weapon delivery.
In March 1995 he was promoted to Senior Research Scientist in Information Technology Division where his focus shifted to the modelling of friendly and adversarial Command & Control (C2) systems and in May 1998 he was promoted to the Head of the associated Systems Simulation and Assessment group.
Mike subsequently established and led the world-class multi- and inter-disciplinary Effects-Based Modelling and Analysis group in response to various operations planning, and intelligence and terrorism analysis challenges. This included being Australian National Leader of TTCP JSA TP6 "Effects-Based Analysis of Adversary Systems" and Programme Manager for AUS/UK AAMOST Topics 154 and 156.
In July 2008 Mike was promoted into the position of Research Leader, Signals Intelligence in C3I Division and took up this position in August 2008.
In April 2012 Mike had a short stint with the Parallax cyber security enabling research initiative as Research Leader, Cyber Integration before returning to C3ID in February 2013 to contribute to the development of a corporate Cyber S&T Strategy.
Following the establishment of of Cyber & Electronic Warfare Division on 1 July 2013, Mike held the position of Research Leader, Combined Effects before transitioning to Research Leader, Cyber Assurance and Operations where he was responsible for Defence's primary cyber research and development. Mike's roles included being the lead for national cyber security research partnerships with academia and industry, representation on the PM&C-led national cyber security review, and relationships with the US Department of Homeland Security in cyber security S&T. His achievements included establishing the research stream of the Australian Cyber Security Centre (ACSC)'s annual conference.
In December 2016 Mike was promoted to the position of Chief, S&T Program where he is responsible for the business processes by which the Australian Department of Defence balances its investment in science and technology and assures the value generated from that investment.