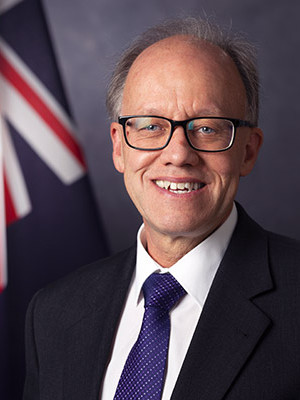 Acting Chief of Research Services Division.
Dr Peter Shoubridge received a BE in Electronic Engineering from the South Australian Institute of Technology in 1985 and PhD from the University of South Australia in 1998. He is currently Chief Land Division of the Defence Science and Technology Group (DST).
In this role he leads research programs supporting chemical and biological defence, enhanced human performance, vehicle and personnel protection, and improved vehicle system capabilities for the Australian Army and national security. In addition, Land Division is called upon to provide advice and support to the Department of Defence for capability development planning, major project acquisition and support to operations.
Within Land Division, he was previously Research Leader Land Vehicles and Systems, leading research in contested and degraded systems environments, focusing on vehicle systems self-management, armour mechanics and vehicle protection, logistics autonomy and combat service support design, tactical command and control, and joint systems integration.
As Acting Chief Electronic Warfare and Radar Division, he led research programs in electronic warfare situation awareness and the warning of incoming threats using radio frequency and electro optic technologies, and developing countermeasures to adversary sensors, jammers and weapons. Also, force level electronic warfare modelling, simulation and analysis, integrated battle management, and tactical radar electronic protection.
Prior to this Dr Shoubridge was Research Leader Assured Communications at DST where he led research programs developing technology solutions for robust communications in contested, complex and dynamic environments, and the development of protection measures to communications threats. Research was focused in areas of autonomic network formation and reconfiguration, communications electronic warfare, as well as satellite network survivability and mission critical service availability.
Research in tactical communications adapted Asynchronous Transfer Mode (ATM) switching and transmission technology for use in tactical military networks which shaped the design of Defence strategic and tactical trunk network architectures. Research was also conducted in the development of adaptive hybrid routing protocols for dynamic military packet radio networks.
In the area of signals intelligence, Dr Shoubridge established and led a network analysis section, researching graph matching techniques and developing an intelligence analyst support tool to automatically detect statistically abnormal change events in network connectivity and traffic patterns over time.
Prior to working in Defence communications, Dr Shoubridge was employed as an engineer with the Canberra Deep Space Communications Complex, General Motors Holden and the Aircraft Research and Development Unit. He is a senior member of the IEEE.