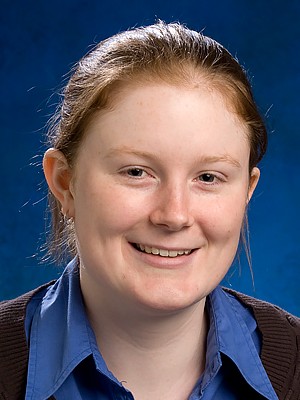 Kylie Bedwell isn't deterred by a skiing accident that fractured her neck and dislocated both hips four years ago. Logic simply trumps fear.
"I want to experience everything there is in life. Before I had a skiing accident in Christchurch, I wanted to skydive – in fact we had planned to jump the day after I was injured."
It's a similar logic that propels Kylie's work as an aerospace engineer with a research team advising the Australian Defence Force (ADF) about the flight behaviour and performance of fixed wing aircraft.
"My work involves mathematical modelling of fixed wing aircraft – generating computer models that calculate the performance characteristics of the aircraft, for example, how far the aircraft can fly, how fast it can go, how high," she explains.
Much of the data required originates from the manufacturer – they'll provide information on the aerodynamic properties of the airframe and the thrust data for the engine. These data sets are used with DST Group models to predict the aircraft's flight performance.
"Sometimes, we build a sub-scale replica of the aircraft and use our wind tunnels to generate the necessary aerodynamic properties needed for our simulations."
Kylie says that it is important DST is able to inform the ADF about aircraft flight behaviour and performance issues to assist in acquisition, making sure that Defence is an informed buyer, 'and to support operations, ensuring we make the most effective use of our resources.'
Her research team also uses its expertise to support the ADF during aircraft accident investigations. In 2009 the team assisted in the investigation of the missing RAAF Canberra aircraft, lost during the Vietnam War. The group reconstructed the final flight path from voice recordings and significantly narrowed the search area, helping to locate the crash site.
"DST has developed these software tools over many years, and we continue to refine them."
"We don't simulate in real time. Our software is a lot faster: we can calculate all the parameters quickly and get a final result within a few minutes."
"Our defence clients may ask us 'how far can this aircraft fly,' or 'can this aircraft complete this mission?' And, with our software tools, we are able to provide a quick response to these types of questions," Kylie says.
She says her group is researching methods to develop the capability to respond to future client needs.
"That involves considerable research and modifying the software code to achieve what the client has requested."
Of course, computer coding is where the unexpected can occur.
"A lot of my time is spent understanding unexpected results."
"Naturally I am a very logical person. I like things to make sense and if they don't I keep studying them until I can explain the discrepancies."
Kylie recalls that her interest in aerospace spiked before applying for entry to Adelaide University six years ago, joking that 'when I was younger I wanted to help design and build spacecraft and help launch them.'
"And I wanted to do engineering because it was more of an applied mathematical field and I could see where my efforts would be used rather than it being purely theoretical," she says.
"When I tell people that I'm an aerospace engineer, their initial response is typically 'oh you want to be an astronaut?' There's a lot more to aerospace engineering than just becoming an astronaut."
"There's definitely appeal in entering space as an astronaut but I much prefer to be on the ground in support."
"The longer I work, the more I am getting involved in aspects of the job where I can clearly see that I'm supporting people in defence," she says.