STaR Shots - a new Science & Technology strategy for Defence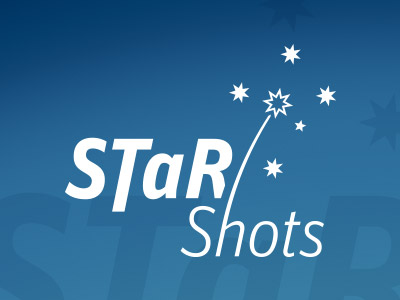 Australia faces an increasingly challenging and contested security environment over the next decade. The Defence White Paper 2016 outlined the Government's intent to ensure a regionally superior ADF with the highest levels of military capability and technological sophistication.
The importance of science and technology (S&T) in delivering strategic advantage across the full spectrum of Defence capabilities is paramount. Success will be linked not only to a focused science, technology and research program but also to effectively leveraging and shaping the national S&T enterprise.
As the technological challenges to Defence capabilities are rapidly evolving and broadening, a new coordinated approach is envisioned for the delivery of Defence's S&T outcomes which will accelerate and grow the scale of S&T activities.
DST is developing a One Defence S&T Strategy 2020-30 to deliver mission-driven research programs leading to leap-ahead capabilities, and to set out strategic guidance on leveraging a world-class defence S&T enterprise.
Foundational pillars of the strategy
Three strategic pillars underpin the delivery of STaR Shots and broader Defence S&T program: One Defence S&T Capability, Brilliant People, Collaborative Culture, and Outstanding Research Infrastructure Powering Innovation. They will be crucial to shaping a Defence S&T enterprise with a capacity to create future Defence capability and secure Australia's defence and national security interests.
One Defence S&T Capability
The One Defence S&T Strategy will shape partnerships between Defence, our national S&T enterprise and international partners and, through a One Defence S&T Capability Plan, will map how these elements of the community contribute to Defence S&T capability.
Brilliant People, Collaborative Culture
The new strategy will also focus on developing a highly-skilled innovative, collaborative and inclusive workforce to meet the S&T challenges of delivering a capability edge for Defence. It will leverage Defence's STEM Strategy to create opportunities for ongoing fundamental and multidisciplinary education.
Outstanding Research Infrastructure Powering Innovation
Initiatives will be introduced to ensure Defence possesses or can access the research infrastructure required to deliver its current or future capabilities. The investment in research infrastructure, based on the S&T Infrastructure Plan, will shape opportunities to co-locate with partners leading to the establishment of modern physical and information research environments that foster team work and collaboration.
Centrepiece of the strategy
Challenge-driven STaR Shots
A set of STaR Shots will be established to focus strategic research and set the foundation for future leap-ahead capabilities. Having clearly-defined transition pathways, these Defence-sponsored aspirational and inspirational programs will demonstrate tangible future-focused defence capabilities sponsored by a senior Defence leader.
A tentative list of STaR Shots is below and will be finalised after consultation with stakeholders in Defence, industry and academia.
Consultation and information sessions are being held throughout September and October to solicit input and feedback which will inform the One Defence S&T Strategy 2020-30.
Enhanced Undersea Surveillance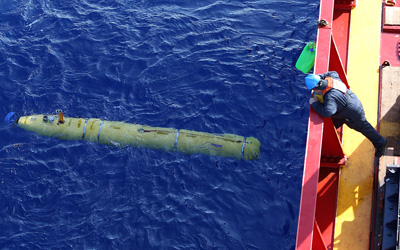 Australia's large maritime domain and limited crewed platforms present a significant challenge in monitoring undersea threats. Through better coordination of existing systems supplemented by novel technologies, this STaR Shot will deliver remotely deployable undersea surveillance systems to support anti-submarine warfare and extend the reach of the ADF's maritime surveillance operations, including unattended undersea surveillance over extended time periods.
Real-Time CBRN Situational Awareness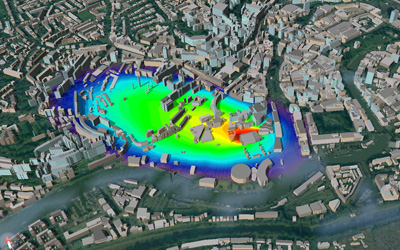 The ADF needs the ability to detect, identify, monitor, predict and communicate a fused common operating picture to counter the full-spectrum of emerging CBRN agents that pose a growing threat to Australia and across the globe. By 2025 this STaR Shot will progressively deliver threat detection and defeat capabilities underpinned by real-time data fusion technologies, autonomous remote sensing of hazards, and situation awareness of threats.
Force Projection in a Contested Environment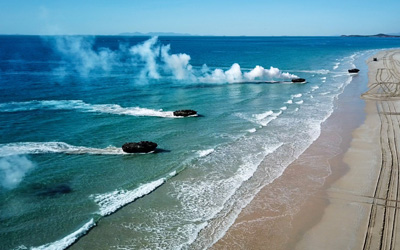 Anti-access and area denial (A2AD) strategies prevent an adversary's access to a particular region or contest its freedom of movement within that region by using advanced air threats, surface-to-air threats and passive detection technologies. This STaR Shot seeks to deliver inexpensive, asymmetric capabilities to counter an adversary's A2AD defences, primarily through the use of multiple, low-observable unmanned aerial systems for information gathering, surveillance, electronic attack, deception, misinformation and diversion of resources. In combination with other strike platforms, this countermeasure can confuse and complicate an adversary's targeting and C4ISR systems which are designed for large, high-value targets.
A New Space Technology Intelligence Cloud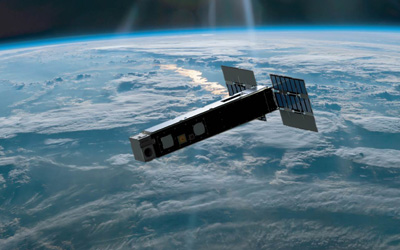 The existing space capability is becoming highly vulnerable in an increasingly contested space domain. The ADF needs an intelligence cloud of next generation space systems that is resilient and responsive to its mission requirements. This STaR Shot will leverage Australian autonomous and next generation space system technologies to demonstrate communication, surveillance and positioning, navigation and timing capabilities within an operational demonstration of a cloud system. It will be Coalition-ready for global operations in contested battlespaces, delivering information directly to the warfighter and space services to the ADF in real time.
Quantum Assured Position, Navigation and Timing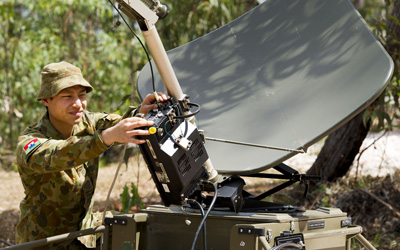 Position, Navigation and Timing (PNT) systems are vital for military operations to maintain constant situational awareness. They are reliant on the Global Navigation Satellite System (GNSS) which in future conflicts may only provide restricted access, degrading PNT reliability. This STaR Shot will explore quantum technologies as a solution to assure PNT in a GNSS constrained environment. A prototype will be demonstrated during maritime trials in 2022 and 2024. A successful outcome will ensure the ADF has a trusted PNT system to support the timing requirements of battlespace networks and achieve mission success.
Assured Spectrum Exploitation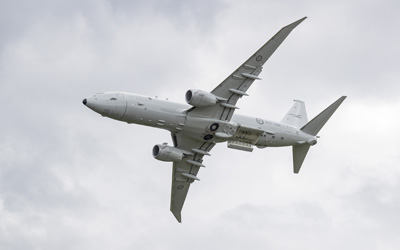 Access to the electromagnetic spectrum is vital for today's military operations as all joint functions rely on capabilities that use the spectrum. The ADF's spectrum operations need to be integrated, spectrally efficient and agile to compete successfully in the future battle space. This STaR Shot will focus on novel advancements in radar technology coupled with machine learning-based (or cognitive) electronic warfare battle management systems to support joint warfighting concepts across networked platforms. This will result in better awareness of the electromagnetic spectrum, its management and effective exploitation in the increasingly congested radio frequency environment.
Disruptive Effects: High Speed Weapons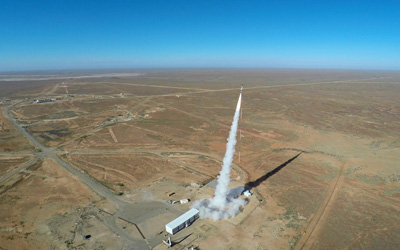 The rapid development of advanced missiles and high speed systems are challenging current missile defence capabilities due to their speed, range and manoeuvrability. For the ADF to carry out its missions in challenging contested environments it is a priority to develop countermeasures against these types of advanced high speed systems. This STaR Shot will inform capability decisions for wide area denial by demonstrating the advantages of an integrated countermeasure system, including next generation C4ISR capability.
Information Warfare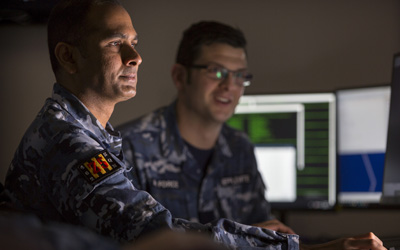 The new theatre of warfare is the information environment which now controls and influences the physical realm through Electronic Warfare (EW), the inside information realm through Cyber Warfare (CW) and the human realm through Influence Operations (IO). Information Warfare is the sum total of these three elements brought together in a seamless way. Through this STaR Shot, a blended awareness and effects across the physical, information and human realms will be achieved. The capability will be refined through wargaming scenarios designed to increase the effectiveness of air, land, maritime, and space platforms while enhancing intelligence and national security operations.
Next Generation Command and Control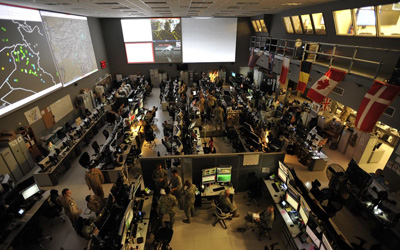 Joint All Domain Operations is the new reality in modern warfare, requiring simultaneous effects within and across every operating domain. They are high speed, high manoeuvre operations conducted at tempos difficult to match. The ADF needs Joint All Domain Command and Control (C2) to maximise the impact of all other Defence capabilities into a synchronised, coherent force delivering an operational edge for Australia. This STaR Shot will leverage enabling technologies such as artificial intelligence, machine learning, autonomy and human-machine interactions, combining them with emerging C2 and situation understanding concepts to achieve a continuously evolving end-to-end Joint All Domain C2 capability that will be reconfigurable and deployable. The new capability will enable commanders to make rapid decisions based on actionable information and enhanced situation understanding of complex battlespaces.
Assured Prediction of Materiel State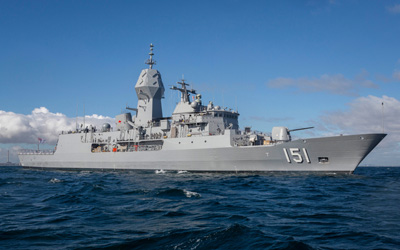 Maintenance of ADF platforms is a significant cost for Defence. Traditional maintenance approaches based on predetermined life cycles have resulted in reduced availability of platforms or additional maintenance than required. This STaR Shot will lower the cost of maintenance and improve availability of platforms for operational service through the intelligent use of data analytics, improved structural and equipment predictive condition modelling, platform condition based monitoring and fleet usage scheduling.
Consultation
During October, DST hosted a series of information sessions to brief industry and universities on the Strategy and STaR Shots.
Contacts
Enhanced undersea surveillance
Kershaw, David (CMD) <Qnivq.Xrefunj@qfg.qrsrapr.tbi.nh>
Real-time CBRN situational awareness
Shoubridge, Peter <Crgre.Fubhoevqtr@qfg.qrsrapr.tbi.nh>
Force projection in a contested environment
Sharp, Khan <Xuna.Funec@qfg.qrsrapr.tbi.nh>
Agostino, Katerina <Xngrevan.Ntbfgvab@qfg.qrsrapr.tbi.nh>
A new space technology intelligence cloud
Seedhouse, Andrew <Naqerj.Frrqubhfr@qfg.qrsrapr.tbi.nh>
Quantum assured position, navigation and timing
Lambert, Dale <Qnyr.Ynzoreg@qfg.qrsrapr.tbi.nh>
Assured spectrum exploitation
Seedhouse, Andrew <Naqerj.Frrqubhfr@qfg.qrsrapr.tbi.nh>
Disruptive effects: High speed weapons
Riley, John (CWCSD) <Wbua.Evyrl@qfg.qrsrapr.tbi.nh>
Information warfare
Lambert, Dale <Qnyr.Ynzoreg@qfg.qrsrapr.tbi.nh>
Next generation command and control
Booth, Lynn <Ylaa.Obbgu@qfg.qrsrapr.tbi.nh>
Assured prediction of materiel state
Kershaw, David (CMD) <Qnivq.Xrefunj@qfg.qrsrapr.tbi.nh>