Benefits of working at DSTG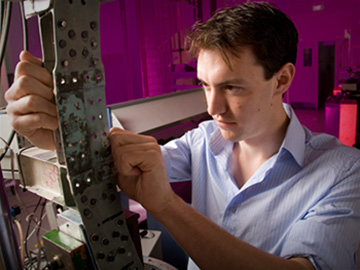 At DSTG, you will enjoy Australian Public Service conditions with competitive salary packages and flexible, family-friendly working arrangements. Our staff have access to flexible working hours and there are also opportunities for part-time and home-based work.
A standard working week for staff is 37 hours and 30 minutes. We offer generous leave conditions, including long-service leave, personal/carers leave, special leave, maternity and paternity leave, as well as leave without pay in special circumstances.
As a Commonwealth public servant you will enjoy one of the best superannuation schemes in Australia, the Public Sector Superannuation Scheme Accumulation Plan (PSSap) managed by ComSuper. You can select your level of contributions to suit your own investment objectives.
At DSTG, we are committed to helping employees balance work and home life with a range of effective policies, practices and social networks. Our staff enjoy a great range of sporting, recreation and relaxation facilities, such as fitness programs, organised team sports and staff celebrations. Special interest groups and on-site social clubs help organise regular activities and celebrations.
A collaborative, supportive environment
DSTG values its people, professional excellence and quality outcomes. As such, we place emphasis on enabling people to be well-equipped with the knowledge and skills to perform their roles effectively, bringing out the best in them while achieving organisational goals. DSTG is a strong advocate of lifelong learning. We offer a range of initiatives to support your ongoing development, from on-boarding and induction activities, early career experiences, through to cultivating leadership capabilities, and continuing professional and domain knowledge development.
Effective teamwork and building collaborative relationships are highly valued within DSTG, and are some of the key contributing factors to our successes. Transformative programs are offered to staff in order to facilitate an increase of awareness of self and others, as well as interpersonal skills to foster effective interactions and cultivate partnerships.
Corporate programs are complemented by mentoring, coaching, and access to collegiate networks. You will have access to a range of study assistance schemes to support your further learning, ranging from vocational skill training, to the undertaking of a PhD program. This enables you to remain at the forefront of your professional field.
A rewarding career
Mobility is embraced within DSTG to provide you with the space and opportunities to experience a different work area, try a new role, and broaden your perspectives. High-performing staff are recognised in a variety of ways, such as achievement awards, developmental opportunities, research fellowships, domestic and international posting opportunities.
You have a great opportunity to contribute to a thriving and continuously improving organisation that delivers some highly cutting-edge science & technology. Additionally, you will get the chance to engage in some really stimulating and rewarding work in support of Defence and Australia's national security. DSTG strives to help people achieve their best and to build satisfying and enduring careers.