Careers
Applications for the NAVIGATE program are now closed.
In 2022, NAVIGATE was launched as a pilot program to a strong reception from applicants and the public and private sector STEM community. Over 800 applicants competed for the opportunity to contribute to the defence of Australia's national interests, and the promotion of security and stability, through the application of science, technology, and research leadership.
Information about future intakes will be shared on this page when available.
NAVIGATE Overview and Objectives
NAVIGATE aims to bolster Defence's mid-career workforce capability, broaden the diversity of our workforce, and support participants with the information, knowledge, and know-how to succeed as a STEM leader within Defence. Over the course of the program, participants are provided with a tailored training and development program, mentoring, and the opportunity to work with Australia's brightest and most innovative scientists, engineers and IT specialists.
The NAVIGATE Program gives participants the opportunity to work with our partners in industry and academia, both in Australia and around the world. Participants will contribute to the delivery of scientific advice and innovative technology solutions to provide our Defence force with a capability edge.
Over 12 months, participants will learn about, and contribute to, the complex but very rewarding field of Defence science and technology. Throughout the NAVIGATE Program, participants will undertake two six-month placements in different technology areas within the Defence STEM ecosystem. The 2022 NAVIGATE Program will comprise of two cohorts, the first will commence on 31 May 2022 and the second will commence on 29 August 2022.
At the end of NAVIGATE, Defence will work with participants to identify the best opportunities to apply their skills and experience where they can contribute to Defence priorities.
The NAVIGATE Program aims to:
Improve Defence's access to high calibre mid-career researchers and technologists by providing a new pathway into Defence.
Bolster female representation at the mid-to-senior levels of the organisation through the application of gender targets of 40% male, 40% female and 20% any gender.
Provide opportunities for high-performing Defence STEM specialists with a supported opportunity to broaden their leadership exposure and contribution.
Enable STEM professionals from the broader S&T ecosystem to transition into the complex area of Defence Science and Technology.
Enable career mobility for STEM Professionals within Defence.
Increase diversity to allow greater innovation to solve the future challenges for Defence.
Create a cohort with a deeper understanding of both Defence and external partner context.
Rotation Objectives
Throughout rotations, participants will be provided with opportunities to contribute to high priority areas for Defence through training, leadership development opportunities and mentorship. Participants will also gain exposure to different areas where they can develop an appreciation of the organisation as a whole which will benefit them as their career progresses.
The two 6 month rotations aim to:
Provide all participants with exposure to the breadth of STEM careers in DSTG and Defence.
Provide practical workplace experience to be applied in the wider STEM ecosystem.
Provide participants with the opportunity to contribute their knowledge and expertise to a high priority body of work.
Provide participants with an engaging and supported opportunity to contribute to Defence.
The NAVIGATE Program allocates participants to rotations based on organisational priorities, available opportunities, educational background, experience, career aspirations, location and developmental needs.
The first rotation will see participants that are new to Defence placed in a position within Defence Science and Technology Group. This will provide them with the opportunity to get to know and contribute to Defence's dedicated science and technology group.
Current Defence employees will be provided with an opportunity to broaden their knowledge of Defence's Science and Technology work through a placement in the broader STEM ecosystem that can benefit from their STEM knowledge and expertise.
The second rotation seeks to align the participant's career aspirations and development goals with Defence's organisational priorities. NAVIGATE will work with participants to support their placement in a suitably aligned area with consideration to Defence's organisational priorities.
NAVIGATE Final Placement
On completion, participants will be consulted by the NAVIGATE team to identify their best opportunity to contribute in Defence Science and Technology Group or the wider Defence they would like to work in, in alignment with Defence priorities. This will give participants an opportunity to drive their career into their area of interest.
Mentoring
NAVIGATE's mentoring program is designed to support participants success in their new role in Defence.
NAVIGATE mentees will work with their mentors to identify key areas of focus which may include topics such as communication in leadership, adaptive leadership in support of organisational change, ethics, innovation challenges, strategic thinking and the continued development of scientific and enterprise leadership skills.
Recruitment and Selection

Stage 1 – Application
NAVIGATE applicants must meet the following criteria:
Be an Australian citizen
obtain and maintain the required security clearance.
Have a PhD in science and technology or related field with over 5 years' experience being highly desirable.
Applications are reviewed by at least two selection panel chairs to determine suitability for NAVIGATE.
Stage 2 – Online Testing
Eligible applicants will be provided with a link to complete online psychometric test to understand their:
Motivation
Values
Capabilities
Applicants will also receive an email containing a link for submission of their video interview. Applicants will demonstrate their technical experience, motivational drivers and leadership skills.
Stage 3 – Assessment Day
Shortlisted applicants are invited to attend a half-day Assessment Day comprising of:
Panel Interview,
Stakeholder Presentation, and a
Group Activity.
Selection panels conduct an initial assessment rating of each applicant as suitable or unsuitable.
Stage 4 - Referee Reports
All applicants are required to provide the contact information of two referees. It is preferable to include a current supervisor where possible or appropriate. Referee reports are used to gauge an applicant's ability and attitude in the workplace.
Referees are encouraged to share the referee report with the applicant. Where this has not occurred, applicants can seek a copy of their referee report from NAVIGATE.
Stage 5 – Final Selection
With consideration to the aims of NAVIGATE, a pool of suitable applicants is identified for offers of employment through the program. The NAVIGATE Team contacts the successful applicants via telephone with an offer of employment which is subsequently formalised.
All unsuccessful applicants are notified and provided with the opportunity to seek feedback.
Further Information
If you have any questions about the program or would like further information, please contact QFGTJbexsbeprpncnovyvglnaqgnyrag@qfg.qrsrapr.tbi.nh.

What sort of employer is Defence?
Learn more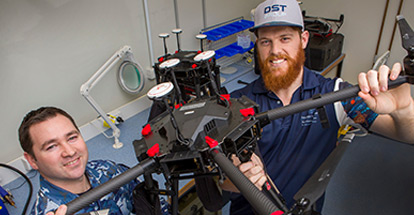 What's expected of senior Defence researchers?
Learn more