DSTG has a proud history of delivering innovative science to support the Australian Defence Force.
Defence science work has been conducted in Australia since 1907 and today DSTG is our nation's second-largest publicly funded research agency.
One aspect of our organisation that has remained constant over the past century and more has been the outstanding calibre of our people and the high-quality outcomes of our work.
For organisations, as much as for individuals, track record is a strong indicator of future performance. DSTG has shown resilience and innovation over the past hundred years as we have continued to build on our legacy of achievements. Over this time, we have continued to step up the drive to find scientific and technological solutions to help meet Australia's defence and national security challenges. The scale and significance of our activities are testament to our talented, innovative and dedicated people.
See our timeline for key moments in our history, or browse through some of our most notable innovations. Find a detailed history in our centenary publication here.
DSTG in Victoria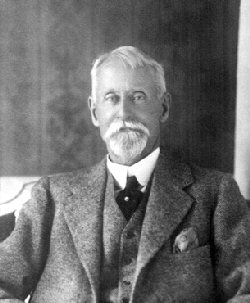 Defence science in Victoria can be traced back to 1907 when the Commonwealth government appointed the Victorian Inspector of Explosives, Cecil Napier Hake, as the Chemical Adviser to the Department of Defence. Hake was thus Australia's first defence scientist and went on to establish the first Defence laboratory at Victoria Barracks on St Kilda Road in Melbourne in 1910. Called the Chemical Adviser's Laboratory, it later became known as the Australian Arsenal Branch.
The Branch was later relocated to the then outer suburb of Maribyrnong, and became known as the Laboratories of the Munitions Supply Board, and later in the same year Munitions Supply Laboratories or MSL. It was known as the Munitions Supply Laboratories for the next 30 years, before it went through another series of name changes, finally becoming the Defence Standards Laboratories, which it was to remain for the next 20 or so years.
While DSTG's Maribyrnong site grew out of the munitions industry, the site at Fishermans Bend was born out of the need for a domestic aeronautical research capability. H.E Wimperis, a former Director of Scientific Research in the British Air Ministry recommended that an Engineering Research Establishment be established by the Council for Scientific and Industrial Reseach (CSIR). He emphasised that the laboratory should be located close to centres of aeronautical industry and performance testing, identifying the site at Fishermans Bend as excellent for this purpose.
Construction of the Fishermans Bend site started in August 1939, one month before the start of the Second World War. The first staff to work at "the Bend" arrived in April 1940 and in May 1940, the laboratory formally became the Division of Aeronautics, part of CSIR, with L.P Coombes, formerly of the Royal Aircraft Establishment Farnborough, as Chief.
DSTG in South Australia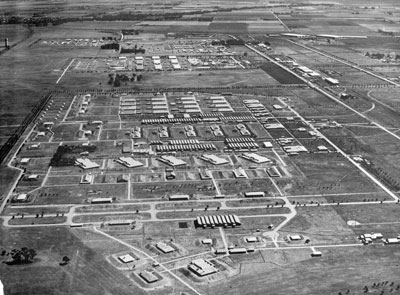 In South Australia, DSTG's existence began when the British and Australian governments agreed in principle to cooperate in long-range weapons research. Britain's vulnerability to attack by the new ballistic missile technology became apparent in the latter stages of World War II when German V2 rockets were launched from The Hague in Holland and directed on to London. With warfare now able to be conducted from a distance, the British government was keen to embrace the new technology and, with it, the development of guided weapons, in order to deter future aggressors.
Britain looked to her Commonwealth territories late in 1945 in order to find a partner and a suitable site for a proving range because of the unavailability of suitable sites at home and the need to ensure safety.
A large tract of arid land in the north-west of South Australia was chosen following extensive inspections.The one-time Salisbury Munitions Factory, built between 1940 and 1941 to service the demands of World War II was selected as the project's technical base.
DSTG in Tasmania
DSTG established its primary food research facility in Scottsdale, Tasmania, in 1954. Previously, food research had been carried out in Melbourne at the Army Food Research Station, but by the early 1950s, these facilities were found to be no longer adequate.
Early work undertaken in Scottsdale included research into food compression. Following that, three types of ration packs – an emergency ration pack, a one-person 24-hour pack and a ten-person composite pack – were developed and accepted into service by Army.
Other work included research into the dehydration of meat, the production of glucose-free egg powder, the production of fat anti-oxidants and the compression of dehydrated vegetables. The unit also provided research and development services in food science and nutrition, and developed a range of specialised food products to meet the energy and nutritional needs of frontline personnel in various conditions.
DSTG's nutrition research facilities in Scottsdale recently underwent an $18.7 million upgrade. Research at the refurbished Scottsdale site has strong links to the new Centre for Food Innovation (CFI) through a collaborative agreement between DSTG, CSIRO and the University of Tasmania. Research at the CFI will focus on novel approaches for producing high-tech nutrition and survival foods for those engaging in high performance activities such as athletes and frontline defence personnel. The CFI will also build partnerships with food producers in the local area.
DSTG in Western Australia
In 1996, DSTG opened a research site at HMAS Stirling south of Perth in Western Australia in response to the transfer of Navy's submarine fleet base there from Sydney Harbour.
This move coincided with the decommissioning of the Oberon class and entry into service of the Collins class submarines. All the work undertaken in Stirling was in support of the Collins class and included operational and exercise analysis, combat system decision-making and training aids, and frontline support to submarine and surface-to-ship sonar systems.
In 2004, four laboratories were built to enable investigations also into materials, noise and vibration and sonar processing. These new facilities include:
A replica Collins class submarine control room for studies on the interactions between systems and operators.
Amproved facilities for modelling studies and submarine tactical war games.
Facilities to support a greater variety of trials.
Greater capacity to undertake materials failure analysis and increased data mining activities.
A core research task being undertaken is that of submarine hull and towed array sonar data replay and analysis – an activity critical to evaluations of submarine sonar performance and for investigating new processing concepts.
DSTG in Queensland
DSTG's Brisbane site is located at Eagle Farm.
A key focus of the research work done there is on developing technological capabilities required for hypersonic flight, this being flight powered by air-breathing scramjet engines at many times the speed of sound. The hypersonics research done in Brisbane, undertaken in collaboration with the US Airforce Research Laboratory, is a world-class effort as well as Australia's largest and most important. DSTG and the US Air Force Research Laboratory undertook a series of flight trials as part of the Hypersonics International Flight Research Experimentation (HIFiRE) program with the purpose of gathering data about various aspects of scramjet engine propulsion.
Research is also being done in Brisbane in the areas of 'smart' technologies, such as piezo-electric materials that change shape when stimulated by an electric current. In addition to facilitating research, the site has been established to provide a focal point for interactions with Queensland industry and academia that may lead to the development of capability enhancing technologies for Defence.
The DSTG facility at Innisfail (Queensland) was established in 1950 to undertake exposure testing of materials under tropical conditions.
DSTG in New South Wales
DSTG current Sydney operations were originally established by the Royal Australian Navy as the Royal Australian Navy Experimental Laboratory (RANEL) which opened on 13 February 1956. It was located at HMAS Rushcutter where it occupied two classrooms and an office.
The Royal Australian Navy founded RANEL to test British research into long-range passive acoustic detection of submarines. Submarine detection was simulated by fitting HMAS Kookaburra with hydrophones to search for vessels as they passed through Sydney Harbour. With time the scope of the organisation broadened and in 1958 it was made responsible for all scientific work for the Navy.
Since its establishment in Sydney, DSTG has conducted research in a range of fields including mine countermeasures, exercise analysis, fluid mechanics, underwater physics, sonar, surveillance, oceanography and maritime warfare. Three of its most successful projects are:
The Towed Underwater Glider. This glider enabled divers to search for underwater ordnance.
The Australian Minesweeping and Support System (AMASS). This system stood above competitors because it was relatively cheap, it required no electrical power, it could withstand mine explosions, it was deployable on small commercial boats and it could effectively emulate the signatures of a range of vessel classes.
The Ping Intercept Passive Ranging System (PIPRS). This system enabled the interception of sonar pings to calculate the location of other vessels.
In the late 20th century the laboratory underwent several administrative and name changes. The laboratory's name changed in 1969 to the Royal Australian Navy Research Laboratory (RANRL), in 1987 to DSTO Sydney and in 2015 to DSTG. In 1975 the laboratory was transferred from Navy administration to administration under the recently established DSTO. The laboratory has also moved location twice, first to Pyrmont in 1984, then to the Australian Technology Park at Redfern (or Eveleigh) in 2008.
Despite changes in name and location, the research focus of the laboratory remains the same. It continues to be a leader in maritime research, the field for which it was originally established. The laboratory is currently focusing on operations research, littoral warfare, amphibious operations and maritime security.
In addition to the primary Sydney site, a small laboratory operated in Alexandria. This laboratory opened in 1949 and undertook research in physical metallurgy and metallurgical chemistry. In 1985 the laboratory was transferred to Army.