Event |
Defence Human Sciences Symposium 2020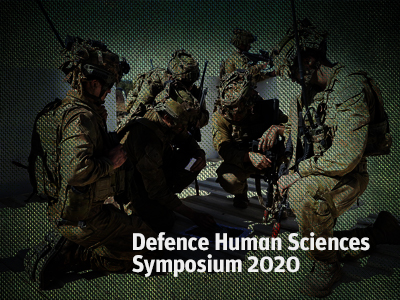 The Defence Human Sciences Symposium (DHSS) is the principal Australian forum for those interested in the application of human sciences research to enhance Defence capability. DHSS 2020 was held over three days as an online event co-hosted by Deakin University and Defence Science and Technology (DST) Group.
The theme for DHSS 2020 was 'Achieving More Together'. The Defence Strategic Update 2020 and DST Strategy 2030 both highlight the need for collaboration to build future defence capability. With the increasing demand from defence stakeholders for research focused on enhancing human performance, there will be a need for integrated human sciences efforts across the research enterprise. This will likely require academia, industry and DST working with the Australian Defence Force, National Security, other government agencies and overseas partners.
DST has a rich history of working with industry and academia. Recent Defence collaboration initiatives such as the Human Performance Research Network (HPRnet) and Research Network in Undersea Decision Superiority (RN-UDS) provide an opportunity to reflect on how we can work together more effectively to meet the needs of defence stakeholders. DHSS 2020 provided a forum for delegates from academia, industry and defence to showcase examples from the human sciences where collaboration (including multidisciplinary teams) is helping to achieve more together for the warfighter.
Program
The DHSS 2020 program was held over three days with a diverse range of speakers including those from the Research Network for Undersea Decision Superiority (RN-UDS) initiative. DHSS 2020 was held in conjunction with the HPRnet Symposium.
Defence Operational Domains
Maritime
Land
Air
Information and Cyber
Space
Defence Focus Areas
Future Technologies (e.g. Human Biotechnology)
Autonomous Systems
Individual and Team Performance
Training & Education
Support to Operations
Health, Wellbeing and Resilience
Human Performance
Anthropometry & Biomechanics
Cognitive enhancement and augmentation
Cognition (perception to decision making)
Food and Nutrition
Physical Augmentation (assistive technology)
Physiology
Methodologies
Ethics
Measurement and Metrics
Modelling and Simulation
Multidisciplinary Research
Tools and Techniques
Human Systems Analysis
Ergonomics & Human Systems Engineering
Human Systems Integration
Organisational Effectiveness
Health and Safety
Organisational Culture
Personnel Selection and Retention
Contacts
If you have any questions about DHSS 2020 abstract submissions, please email QUFF@qfg.qrsrapr.tbi.nh or contact the organising committee. The point of contact for the HPRnet Symposium is also provided.
Organising Committee