Event |
Defence Human Sciences Symposium 2020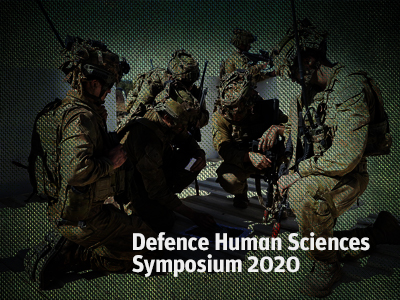 The Defence Human Sciences Symposium (DHSS) is the principal Australian forum for those interested in the application of human sciences research to enhance Defence capability. DHSS 2020 will be held over three days as an online event co-hosted by Deakin University and Defence Science and Technology (DST) Group.
The theme for DHSS 2020 is 'Achieving More Together'. The Defence Strategic Update 2020 and DST Strategy 2030 both highlight the need for collaboration to build future defence capability. With the increasing demand from defence stakeholders for research focused on enhancing human performance, there will be a need for integrated human sciences efforts across the research enterprise. This will likely require academia, industry and DST working with the Australian Defence Force, National Security, other government agencies and overseas partners.
DST has a rich history of working with industry and academia. Recent Defence collaboration initiatives such as the Human Performance Research Network (HPRnet) and Research Network in Undersea Decision Superiority (RN-UDS) provide an opportunity to reflect on how we can work together more effectively to meet the needs of defence stakeholders. DHSS 2020 will provide a forum for delegates from academia, industry and defence to showcase examples from the human sciences where collaboration (including multidisciplinary teams) is helping to achieve more together for the warfighter.
Submission requirements
The arrangements for this year's symposium have changed reflecting the impact of COVID-19. Abstracts of no more than 500 words are to be submitted in DHSS abstract template via EasyChair by Monday 5th October. The abstract template is available here. The review committee will accept submissions describing theoretical and applied research, as well as discussion papers, and papers describing work-in-progress. All submissions must be Official, Public Release. Authors of accepted submissions will be asked to provide a digital recording of them giving the presentation prior to the symposium. Posters sessions are also planned and successful authors will be asked to provide electronic versions.
Preliminary program
The DHSS 2020 program will be held over three days with a diverse range of speakers including those from with the Research Network for Undersea Decision Superiority (RN-UDS) initiative. DHSS 2020 will be held in conjunction with the HPRnet Symposium and details of the HPRnet event will be made available soon.
Because of the uncertainty brought about by COVID-19, DHSS 2020 will be held online. Pre-recorded presentations, live question and answer sessions, electronic poster sessions and discussion forums will be supported by a virtual conferencing platform.
The full program will be released closer to the date and abstract submissions for DHSS 2020 are invited that address the topics below. These topics are indicative rather than all-inclusive. All submissions relevant to the symposium theme and the defence human sciences will be considered by the organising committee.
Defence Operational Domains
Maritime
Land
Air
Information and Cyber
Space
Defence Focus Areas
Future Technologies (e.g. Human Biotechnology)
Autonomous Systems
Individual and Team Performance
Training & Education
Support to Operations
Health, Wellbeing and Resilience
Human Performance
Anthropometry & Biomechanics
Cognitive enhancement and augmentation
Cognition (perception to decision making)
Food and Nutrition
Physical Augmentation (assistive technology)
Physiology
Methodologies
Ethics
Measurement and Metrics
Modelling and Simulation
Multidisciplinary Research
Tools and Techniques
Human Systems Analysis
Ergonomics & Human Systems Engineering
Human Systems Integration
Organisational Effectiveness
Health and Safety
Organisational Culture
Personnel Selection and Retention
Registration
Registration is free for students and AUS$50 for all others
Presenter and Moderator Training
Online training sessions will be provided to presenters and session moderators. The training will run through the process of how the sessions will run and provide information about using WHOVA to deliver presentations. Presenters will be contacted with more details. Date and time (AEDT) for the training sessions are as follows:
Presenters
Thursday 3rd December 10am to 10.30am (AEDT)
Friday 4th December 10am to 10.30am (AEDT)
Moderators
Thursday 3rd December 11am to 11.30am
Friday 4th December 11am to 11.30am
Contacts
If you have any questions about DHSS 2020 abstract submissions, please email QUFF@qfg.qrsrapr.tbi.nh or contact the organising committee. The point of contact for the HPRnet Symposium is also provided.
Organising Committee