Event |
Defence Human Sciences Symposium 2022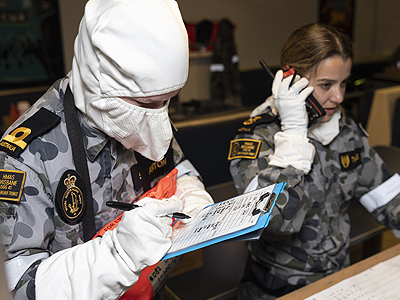 The Defence Human Sciences Symposium (DHSS) is the principal Australian forum for those interested in the application of human sciences research to enhance Defence capability. DHSS 2022 will be co-hosted by Western Sydney University and the Department of Defence between 28-30 November in the EE Building at Western Sydney University's Paramatta South campus in partnership with Deakin Events Management
The theme for DHSS 2022 is "Human Sciences in the Grey Zone". The Defence Strategic Update 2020 highlights the importance of Defence's capability to respond to grey zone operations, where clear distinctions between peacetime and declared warfare are rapidly evaporating, replaced instead by a foggy continuum spanning cooperation - competition - confrontation - conflict. Grey zone activities are already occurring worldwide, such as cyber-attacks and disinformation campaigns.
At the forefront of grey zone operations are Defence's people, who will require new skills and new ways of operating in order to meet the challenges of the grey zone. DHSS 2022 will provide a forum for delegates from academia, industry, and Defence to showcase human sciences research that has the potential to contribute to Defence outcomes.
Submission requirements
Abstracts should be prepared according to the abstract template. Abstract submissions will close Monday, 15 August 11:59pm (AEST) and abstracts should be submitted here. The review committee will consider submissions describing theoretical and applied research, as well as discussion papers, and papers describing work-in-progress. All Defence co-authored submissions should be classified no higher than OFFICIAL, Public Release.
The focus for DHSS is applied human sciences research with potential to enhance Defence capability. Consequently, abstracts are evaluated on their Defence relevance and practical implications as well as their overall quality. That is, based on the study findings (or anticipated findings), why should this research be of interest to Defence, and what might Defence change or do differently? Abstracts that fail to articulate Defence relevance and practical implications are unlikely to be accepted.
Research does not need to be conducted using Defence personnel as participants. Research conducted with non-Defence populations, such as elite athletes or undergraduate students, will still be considered for acceptance if the Defence relevance and practical implications of the work is clear and the work has scientific merit.
DHSS encourages abstract submissions from researchers at all stages of their career. Relevant submissions by students (Honours, Masters, PhD, etc.) are welcome. DHSS also welcomes submissions from international researchers.
Abstracts should not be based on work that has been submitted to, or previously presented at, other conferences. New interpretations of previously-presented datasets or follow-up work may be accepted depending on Defence relevance and overall quality. The committee reserves the right to decline submissions they believe to be substantially similar to work presented elsewhere (including at prior DHSS events).
Marketing abstracts seeking to promote a company or product will not be accepted. Papers describing research by a particular company or using a particular product may be accepted depending on their Defence relevance and overall quality of the presentation.
Abstracts must be submitted through the official submission platform. Abstracts submitted through other means (e.g. direct e-mail to committee members) will not be accepted unless previously agreed by the organising committee. Late submissions may be accepted at the committee's discretion; please e-mail an extension request to quff@qfg.qrsrapr.tbi.nh prior to the closing date.
Preliminary program
The DHSS 2022 program will be held over three days and will include a diverse range of speakers. DHSS will be held as part of Human Performance Week, which also includes the Human Performance Research network (HPRnet) Symposium. For further information, visit the HPRnet symposium page.
DHSS is currently intended to be a face to face event with opportunities for online interaction, but will revert to a fully online event if required due to COVID-19 restrictions. In the event of a face to face conference, attendees will be required to comply with any relevant State, Federal, and venue COVID-19 restrictions and requirements.
The full program will be released closer to the date. Abstract submissions for DHSS 2022 are invited that address the topics below. These topics are indicative rather than all-inclusive. All submissions relevant to the symposium theme and to the application of human sciences to Defence will be considered by the organising committee.
Defence Operational Domains
Space
Information and Cyber
Maritime
Land
Air
Defence Focus Areas
Enhanced human performance
Future Technologies
Human Biotechnology
Autonomous Systems
Individual and Team Performance
Training & Education
Support to Operations
Health, Wellbeing and Resilience
Operating in Contested Environments (including information, cyber, and CBRN)
Human Performance
Anthropometry & Biomechanics
Cognitive enhancement and augmentation
Cognition (perception to decision making)
Food and Nutrition
Physical Augmentation (assistive technology)
Physiology
Methodologies
Ethics
Measurement and Metrics
Modelling and Simulation
Multidisciplinary Research
Tools and Techniques
Human Sciences Research during the COVID-19 pandemic
Human Systems Analysis
Ergonomics & Human Systems Engineering
Human Systems Integration
Organisational Effectiveness
Health and Safety
Organisational Culture
Personnel Selection and Retention
Registration
Registration costs will be advised, but are not expected to exceed AUD$500 for face-to-face attendance. Student registrations will also be available.
Contacts
If you have any questions about DHSS 2022 abstract submissions, please email QUFF@qfg.qrsrapr.tbi.nh or contact a member of the organising committee, listed below.
DHSS Organising Committee
DHSS Advisory Board
| Name | Affiliation |
| --- | --- |
| Dr Nick Beagley | Department of Defence |
| Professor John Cass | Western Sydney University |
| Dr David Crone | Department of Defence |
| Dr Chris Best | Department of Defence |
| Dr Susan Cockshell | Department of Defence |
| Dr Justin Fidock | Department of Defence |
| Dr Steven Talbot | Department of Defence |
| Ms Jodi Morgan | Deakin University Events Management |