Event |
Disaster at the JOADIA Islands gameathon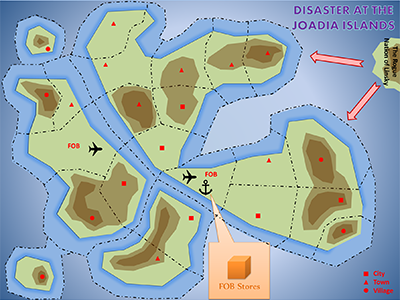 DSTG, in conjunction with Data Science and Ai Association of Australia | DSAi, is pleased to announce the launch of the "Disaster at the JOADIA Islands" gameathon.
What is a 'gameathon'? Well, it's what happens when you combine the best ideas through ideathons/hackathons with the study of wargaming. Through "Disaster at the JOADIA Islands", we hope to generate ideas around the use of AI in wargaming.
"Disaster of the JOADIA Islands" is a turn-based wargame that models a Joint Task Force assigned with the goal of rescuing civilians in a fictitious humanitarian aid disaster relief scenario.
The environment portrayed by the fictional JOADIA Islands enables the practice of better decision-making and we're interested in how artificial intelligence can play a part in that.
To learn more about the challenges, rules, timeframes, FAQs, and instructions on how to submit your entry, visit the JOADIA website.
Registrations for the Gameathon close 7 December.
Winners to be announced 21 December.