Event |
D.Start Ignite Innovation Showcase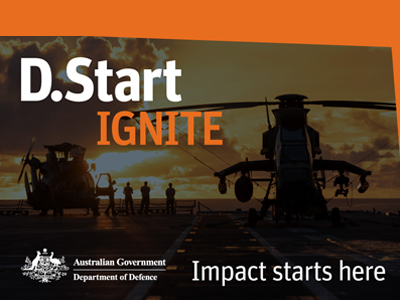 The D.Start Ignite Innovation showcase will be held online on 14 and 21 June.
D.Start Ignite is an innovation and entrepreneurship program that empowers Australian researchers and small to medium enterprises to connect with Defence, identify a real-world application for their science or technology, and attract the resources they need to translate it to capability – at pace.
The showcase marks the finale of the program and is an opportunity for the teams to present the evolution of their offering and customer discovery journey to date. There are 22 teams participating in this round of D.Start Ignite, across two Hubs.
View the full list of innovations.
Hub One – 14 June | 11:00 to 12:30
AtOne
BankVault Cybersecurity
Code 46
HackHunter
Ichor Autonomy
Industrial Automation & Security
Inspection Radar
Quantum Link Verification
Ready Team One
Waste to Building Materials
WaterHynergy
Hub Two – 21 June | 11:00 to 12:30
Advent Atum
ANU Nanopore Team
Battlerz Fintech
Enhancing Visuomotor Skill
Hex20 AltData
Hyper Q Aerospace
Hyprfire
LCAT Team
SABRN
Solinnov
Valkyrie AeroSpace
Registrations
The showcases are delivered nationally online via Microsoft Teams.
To register for Hub One on 14 June, click here.
To register for Hub Two on 21 June, click here.
D.Start Ignite is delivered by Defence in partnership with CSIRO and supported by the Next Generation Technologies Fund.