Event |
Emerging Disruptive Technology Assessment Symposium | Quantum Computing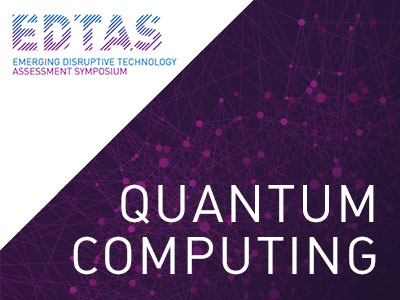 The 2022 Emerging and Disruptive Technology Assessment Symposium (EDTAS) focused on the topic of Quantum Computing.
Supported by the Australian Government's Next Generation Technologies Fund and co-hosted by Noetic Group, the EDTAS series helps future-proof Defence capability through the exploration and assessment of new and emerging technologies.
Each EDTAS event considers an expansive science and technology topic that will likely have a major impact — transformational or disruptive — for the Defence or National Security domains in the 10+ year timeframe.
Run as a 2-day hybrid (virtual and face-to-face) event in Canberra on 22-23 June 2022, the Quantum Computing EDTAS enabled Defence to engage the national S&T enterprise to develop a comprehensive and evidence based understanding of this exciting technology field.
Scope
The Quantum Computing EDTAS was aimed at facilitating an understanding of Australia's strategic needs, current technology capabilities and future technology directions in quantum computing research.
Research drivers, challenges and opportunities around the following key themes were explored:
Hardware and qubits
Software, compilation and control
Algorithms and applications
Networking and integration
Full-stack implementation
The outcomes of the symposium will be used to inform future S&T investment to deliver results for Defence, national security and the national interest.
DSTG was proud to partner with the following consortia to deliver the 2022 EDTAS on Quantum Qumputing:
Partner 1 - University of Melbourne, IBM Quantum and Quantum Brilliance
Partner 2 - Centre for Quantum Computation and Communication Technology and the University of New South Wales
Partner 3 - RMIT, La Trobe University, Quantum Brilliance, H-bar Quantum Consultants and the Pawsey Supercomputing Research Centre.
More information
Email: rqgnf.qfgt@qrsrapr.tbi.nh
More information about EDTAS can be found on the EDTAS webpage.