Event |
Emerging Disruptive Technology Assessment Symposium | Quantum Computing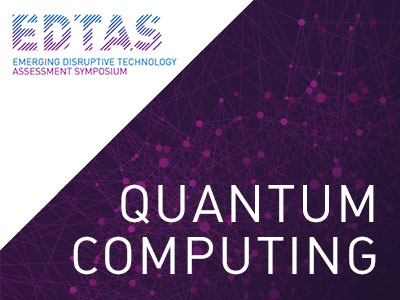 The 2022 Emerging and Disruptive Technology Assessment Symposium (EDTAS) will focus on the topic of Quantum Computing.
Supported by the Australian Government's Next Generation Technologies Fund, the EDTAS series helps future-proof Defence capability through the exploration and assessment of new and emerging technologies.
Each EDTAS event considers an expansive science and technology topic that will likely have a major impact — transformational or disruptive — for the Defence or National Security domains in the 10+ year timeframe.
Scheduled to run as a 2-day hybrid (virtual and face-to-face) event in Canberra on 22-23 June 2022, the Quantum Computing EDTAS will serve as a platform through which Defence can engage the national S&T enterprise to develop a comprehensive and evidence based understanding of this exciting technology field.
Scope
The Quantum Computing EDTAS will facilitate an understanding of Australia's strategic needs, current technology capabilities and future technology directions in quantum computing research.
Research drivers, challenges and opportunities around the following key themes will be explored:
Hardware and qubits
Software, compilation and control
Algorithms and applications
Networking and integration
Full-stack implementation
The outcomes of the symposium will be used to inform future S&T investment to deliver results for Defence, national security and the national interest.
Call for Event Partners
Defence is seeking partners to co-host the Quantum Computing EDTAS with DSTG.
Prospective partners will have renowned research programs in a technology area of relevance to quantum computing.
Partners will be expected to contribute to the development of the program including shaping themes and identifying thought leaders to deliver presentations.
Becoming an EDTAS partner will deliver opportunities to promote your institute's standing in the quantum computing community and potentially shape the direction of future Defence research programs. Key benefits for EDTAS partners include:
A reserved keynote address delivered by an appropriate subject matter expert from your organisation
Reserved attendance for a specified number of attendees
Networking and partnering opportunities among S&T leaders within the field
Opportunity to chair a panel session
Special thanks during opening and closing address
Institute logo on EDTAS brochure and mention on official social media communication
The EDTAS partner must be a signatory of the Defence Science Partnership Program and must have renowned research programs in a technology area of relevance to quantum computing.
The EDTAS series is an evolving format and applicants may consider novel approaches to becoming the event partner. This might include a collaborative application from more than one institution where synergies exist.
The closing date for partner registration is April 22nd.
Call for Participants
Experts in the field of quantum technologies are invited to participate in the Quantum Computing EDTAS.
In addition to enabling valuable networking and engagement, the symposium will provide participants an opportunity to shape the future of quantum computing in Defence.
Participants will be involved in immersive workshop activities, and hear from Defence capability managers and experts. Some participants may be offered an opportunity to present their research to the forum.
The closing date for participant registration is April 29th.
Due to the interactive nature of the event, places are limited.
More information
Email: rqgnf.qfgt@qrsrapr.tbi.nh
More information about EDTAS can be found on the EDTAS webpage.